Virginia Teacher of the Year
RPS' Rodney A. Robinson, who teaches history at Virgie Binford Education Center inside the Richmond Juvenile Detention Center, wins prestigious award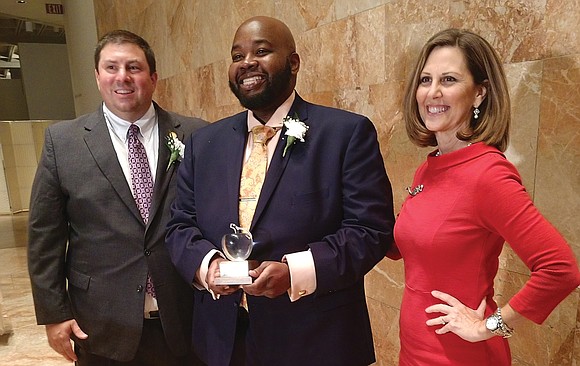 Perspiration, inspiration and dedication to excellence have propelled distinguished Richmond teacher Rodney A. Robinson to the high honor of 2019 Virginia Teacher of the Year.
The award was announced Tuesday evening by First Lady Pam Northam at a recognition ceremony and reception in the grand Marble Hall of the Virginia Museum of Fine Arts.
The 40-year-old Mr. Robinson, who since 2015 has taught history and social studies at Virgie Binford Education Center inside the Richmond Juvenile Detention Center, is the first Richmond Public Schools teacher to win the state honor since 2011.
He now becomes Virginia's nominee for the 2019 National Teacher of the Year, which will be announced next spring at a White House ceremony.
In front of a gathering of state and local education officials, teachers from across the state and family members of Virginia's seven other regional teacher honorees, Mr. Robinson tearfully thanked his mother, Sylvia Robinson, whose illness prevented her from attending, for being an inspiration for him growing up in Church Hill. She had an in-home day care center and taught GED classes at Richmond's Armstrong High School.
He said he was sure his late father, a construction worker, was smiling down on him at the achievement.
He also thanked the love of his life, his wife Summer Robinson, his brother and his aunt, and he acknowledged the students he works with each and every day, calling them "my inspiration."
"My students are the most vulnerable children in society from the constant pressure of urban living," Mr. Robinson told the audience. "They have made mistakes that they are paying for, but they still persevere and strive for success despite being a statistic."
He asked people to think back to when they were teenagers and recall the worse thing they did at that age.
"Then imagine all of the people you met in the schools — teachers, counselors, principals and janitors — judging you at that moment of weakness," he said. "Would you have been given the opportunity to be where you are today or the person you are today?" he asked.
"My students, who are my inspiration, are faced with these challenges every day and desire a great teacher like every other student in Virginia. They are my heartbeat and I will fight for them, and every other child, to be successful. "
After the ceremony, Mr. Robinson beamed with emotion as he spoke with the Free Press.
"I am so happy now — for my students and my co-workers. We all work hard and it is a blessing to be honored and recognized for the work we are doing day in and day out," he said.
Mr. Robinson received prizes from several of the program's sponsors: a $5,000 award and ring from Apple Federal Credit Union Foundation; a $2,000 award from the Allen, Allen, Allen & Allen law firm; $1,000 from Dominion Energy Services Inc.; a Virginia Museum membership; and more.
A history graduate of Virginia State University who earned a master's in educational administration and supervision from Virginia Commonwealth University, Mr. Robinson took his first job in education teaching civics and economics at Lucille M. Brown Middle School in 2000.