Richmond teacher is finalist for National Teacher of the Year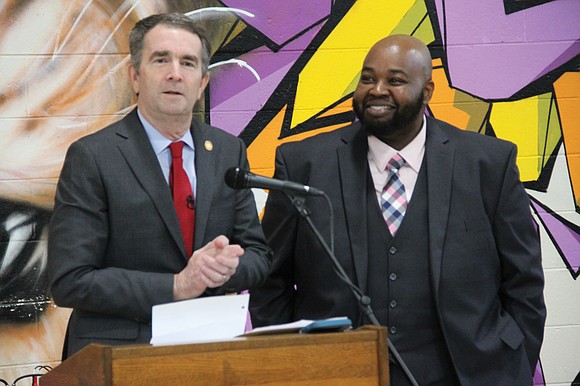 Richmond teacher Rodney A. Robinson's star keeps rising.
Mr. Robinson, who was selected in October as Virginia's 2018 Teacher of the Year, is one of four finalists for the National Teacher of the Year.
Gov. Ralph S. Northam made the surprise announcement Wednesday during a visit with Mr. Robinson at the Richmond Juvenile Detention Center where he teaches history and social studies at the Virgie Binford Education Center.
The 40-year-old Richmond Public Schools teacher was given a standing ovation by students, other teachers and mentors.
"My wife, First Lady Pamela Northam, tells me your students say you are a rock star," Gov. Northam said. "I want all of Virginia to know you were selected as a national finalist."
Mr. Robinson, a Virginia State University graduate who has been teaching since 2000, expressed his gratitude and anticipation on what could come next.
He was named Richmond's Teacher of the Year in November 2017.
"I want everyone to know the importance of education and to produce more strong, young black males," he told the group that was gathered for a Men of Color in Education Summit.
"I challenge more African-American males to make a difference in the world and join the teaching ranks to help close the education gap. I am here to prove to them, the young men at Virgie Binford, that this can be done."
As a finalist, Mr. Robinson will go to California on Friday, Feb. 1, to compete against Kelly Harper, a third-grade teacher at Amidon-Bowen Elementary School in Washington, Donna Gradel, an environmental science teacher at Broken Arrow Public Schools in Oklahoma, and Sydney Jensen, a ninth-grade English teacher at Lincoln High School in Nebraska.
The winner will be announced in early spring and will spend the year traveling the United States as an education ambassador.
"Mr. Robinson stands for excellence in Richmond Public Schools and is perfectly deserving of this recognition," said Richmond School Board Chairwoman Dawn Page, who attended the event. "His hard work is reflected in the smiles on his students faces I saw when Gov. Northam made the announcement."
"It is all love. That's how I describe Mr. Robinson," RPS Superintendent Jason Kamras said following the ceremony.
Mr. Kamras won the National Teacher of the Year award in 2005, when he taught in the Washington, D.C., public schools.
"He loves teaching. He loves his students. He loves Richmond. This is what makes him a truly great teacher," Mr. Kamras said. "If Mr. Robinson wins the National Teacher of the Year Award, it would be game-changing for the district."