Blue Sox win MJBL Tournament; players welcome Inner City Classic
Fred Jeter | 8/2/2019, 6 a.m. | Updated on 8/2/2019, 12:51 p.m.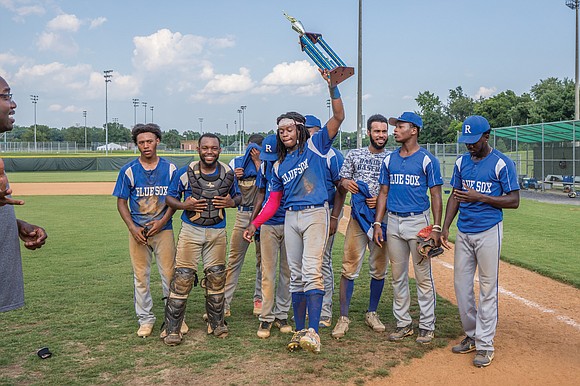 Aspiring ballplayers from throughout the United States and the Caribbean are converging on the Richmond area this week for the National Metropolitan Junior Baseball League Inner City Classic.
Local MJBL Commissioner William Forrester Jr. is expecting player entries from New Orleans, Detroit, Chicago, Camden, N.J., Washington, Greensboro, Charlotte and Nassau, Bahamas.
Host Richmond will be represented by teams in the U-19, U-16, U-14 and U-10 age divisions.
Many of the young men playing for Richmond U-19 this week participated last weekend in the area MJBL playoffs.
Metropolitan Junior Baseball League Inner City Classic
Here's the schedule for the championship games in the different divisions. All championship games will be played at RF&P Park, 3400 Mountain Road in Glen Allen:
U-10 division: Saturday, Aug. 3, 11 a.m. (Smaller field)
U-14 division: Saturday, Aug. 3, 4:30 p.m.
U-16 division: Sunday, Aug. 4, 10 a.m.
U-19 division: Sunday, Aug. 4, 12:30 p.m.
In the championship game last Sunday at Dorey Park, the Blue Sox nipped Riverside 11-10. It was the culmination of a five-team regular season and playoff. Vince Kennedy drove home Demarie Kendall with two outs in the bottom of the seventh (final) inning for the game winner.
Tyshawn Cooke and Keyon Smith handled the pitching chores for the Blue Sox champions.
Blue Sox finished 20-2 under Coach
Robert Raymond. Others making large contributions were Kamari Davis, Kell Patello, Deion Catron, David Dunn and Melvin Cherry.
Among the key players for Riverside throughout the season were Trevor Green, Caleb Causey, Mitch Jackson and M.T. Forrester.
Three local U-19 teams are entered in this week's Inner City Classic. This marks the first time Richmond has hosted the classic since 2014.
The 2018 event was held in Greensboro.
The Inner City Classic was formed in 1991, with the first tournament held in Columbia, S.C.
This is more than just about balls and strikes, home runs and double plays. The purpose of the event is to provide youngsters with an opportunity to travel, to be exposed to diverse cultures and to participate in various symposia.
Richmond has opened its arms to the visitors. All players and coaches are being treated Thursday, Aug. 1, to a free trip to Kings Dominion.
Most of the ballfield action will be in Henrico County because of a lack of suitable facilities within Richmond. Bracket games are scheduled for RF&P Park in Glen Allen, Klehr Field in Northern Henrico and at Douglas Freeman, Deep Run and Hermitage high schools.