Hanover supervisors get earful over weak KKK response
George Copeland | 8/2/2019, 6 a.m. | Updated on 8/5/2019, 10:38 a.m.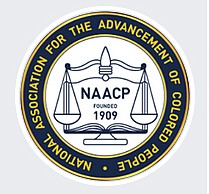 Hanover County residents brought their concerns about growing Ku Klux Klan activity in the area to the streets last week — and to their local elected officials during a meeting of the Hanover County Board of Supervisors.
"Are you a board of all the people or are you a board that supports white supremacy?" asked Beaver Dam resident Holly Jackson Conrad.
She was among 60 people who attended the July 24 board meeting, where, during a public comment period, 14 people questioned the board's muted response to a KKK recruitment rally that was held by the North Carolina-based Loyal White Knights of the Ku Klux Klan outside the Hanover County Courthouse on Independence Day weekend.
Last week's protest of the county's handling of the Klan rally was organized by the Hanover Branch NAACP. About two dozens of people joined NAACP leaders, local clergy and others outside the Hanover County Administration Building where a mix of scripture readings and hymns were offered.
Some later went inside for the Board of Supervisors' meeting, where speakers, most of whom were African-American, gave board members an earful.
Ashland resident and freelance writer Samantha Willis drew upon her own experience with Hanover's "long history of racism" and as a mother of young children who recently returned to live in the county where she grew up. She described the sight of the KKK group at the courthouse as "an affront to me and everybody who looks like me."
Beaver Dam resident David Johnson Jr. demanded an answer to "how a terrorist organization can just show up at the courthouse and no one seems to know how they got there."
Another speaker, Robert Goff of Mechanicsville, threatened a change at the ballot box if the board fails to take action.
"We don't need people who aren't going to stand up for us," Mr. Goff said. "The time will come when all of you will be up for re-election. And I'll be durned if I wouldn't put my great faith to get rid of you. Simple as that."
Calling the KKK rally and the board's lack of response "a reflection of the darker side of Hanover," Chickahominy resident Michelle Schmidt echoed other speakers in linking the events to the controversy surrounding the failure of the Hanover County School Board to rename Lee-Davis High School and Stonewall Jackson Middle School.
The schools' names honor Confederates who fought against the U.S. government to keep black people in human bondage.
The School Board's 5-2 vote in April 2018 to maintain the names also has been linked to the subsequent decision by the Hanover County Board of Supervisors to not reappoint School Board member Marla Coleman, the former Henry District representative.
Ms. Coleman was one of the two School Board members who voted to rename the schools. While officials have claimed her vote on the issue was not a factor in their decision not to reappoint her to the School Board, Ms. Coleman has disputed that assertion.
Hanover County Administrator Cecil R. Harris Jr. denounced the actions and ideology of the Klan during a Free Press telephone interview last week, but added that no official approval was needed for the Klan members to "walk down the sidewalk."