Cliff Branch, former NFL receiver, dies at 71
8/9/2019, 5:59 a.m.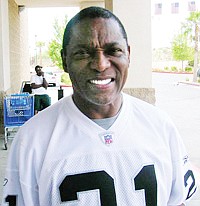 Cliff Branch, one of the premier deep receiver threats in NFL history, died Saturday, Aug. 3, at age 71.
Mr. Branch was found dead in a hotel room in Bullhead City, Ariz. Police said he died of natural causes.
Playing with the Oakland and Los Angeles Raiders from 1972 to 1985, Mr. Branch caught 501 passes for 8,685 yards and 67 touchdowns.
He averaged a whopping 17.3 yards per reception.
While helping the Raiders to titles in Super Bowls XI, XV and XVII, Mr. Branch added 73 postseason receptions and five touchdowns.
A native of Houston, Mr. Branch also starred in track at the University of Colorado, recording personal bests of 10 seconds in the 100 meters and 20.5 seconds in the 200 meters.