Protesters call for tougher gun laws; blame Trump for deaths of 31 in latest mass shootings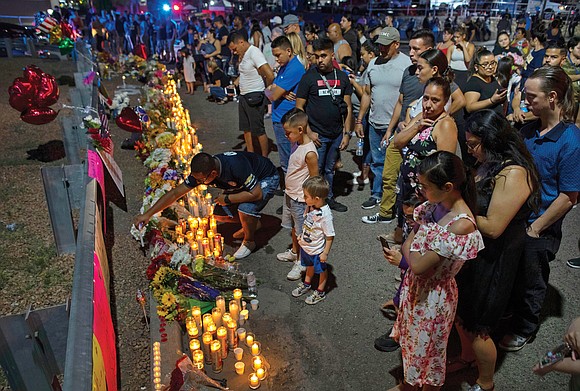 Protesters greeted President Trump's arrival in Dayton, Ohio, on Wednesday, blaming his incendiary rhetoric for inflaming political and racial tensions in the country, as he visited survivors of last weekend's mass shootings and saluted first responders.
He was expected to be greeted by similar protests on his visit later Wednesday in El Paso, Texas, where a gunman opened fired Saturday in a crowded Walmart in this usually peaceful city on the Mexico border.
His visits follow a shattering weekend in which mass shootings just hours apart left 31 dead and injured dozens. It also put President Trump at the center of a storm of outrage over racism and the failure to tighten the nation's gun laws.
Even as the president said Monday that "hate has no place in our country" and blamed the shootings on mental illness, in- vestigators in El Paso confirmed that the massacre Saturday morning at the Walmart that left 22 people dead and 25 others wounded had been preceded by the 21-year-old gunman publishing an anti-immigrant screed on the internet.
Just 13 hours later in the early hours of Sunday, a 24-year-old gunman in Dayton, wearing body armor and carrying 100- bullet magazines to arm his high-powered rifle, killed nine and wounded 14 people outside a club in Dayton's popular Oregon District.
Police warned that he could have killed dozens more people if he had not been shot by police within 30 seconds of opening fire.
The shootings come on the heels of the July 28 mass shooting at the Gilroy Garlic Festival in Northern California, in which a 19-year-old gunman armed with a high-caliber rifle, opened fire, killing three people and wounding 15 others. He had posted neo-Nazi ideas on social media.
Critics around the country, including Democrats running to become the party's presidential nominee to take on President Trump in November 2020, pointed to the president's increasingly racist attacks on migrants at the border and on members of color in Congress as fanning the flames of violence perpetrated by white nationalists, members of hate groups and racist individuals in the United States.
The president and First Lady Melania Trump began their visit to Dayton on Wednesday at Miami Valley Hospital, where many of the victims of Sunday's attack were treated. At least 200 protesters gathered outside the hospital, where they set up a "baby Trump" blimp balloon and held signs stating, "Do something," "Save our city" and "You are why." Many hoped to send a message to the president that they want action on gun control. Some said he was not welcome in their city.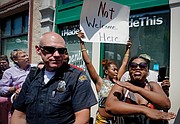 There were Trump supporters, as well.
Reporters traveling with the president were kept out of view as he talked with survivors, first responders and staff at the hospital. White House Press Secretary Stephanie Grisham tweeted that the couple had "been stopping between rooms to thank the hardworking medical staff. Very powerful moments for all!"
Speaking after the president's visit, Dayton Mayor Nan Whaley and U.S. Sen. Sherrod Brown, a Democrat from Ohio, called for action on gun reform. Calling for bipartisan support for change, Sen. Brown said the president and the GOP are "in bed with the gun lobby."