Protesters call for tougher gun laws; blame Trump for deaths of 31 in latest mass shootings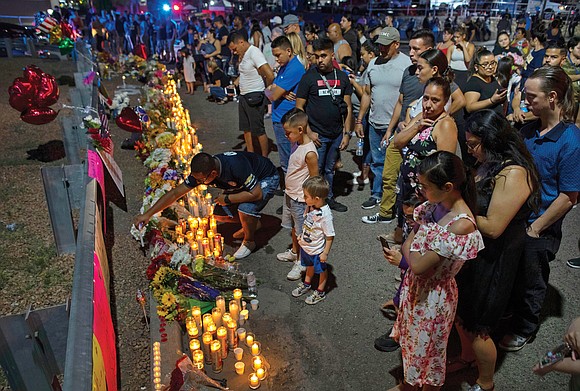 Mayor Whaley said earlier Wednesday that she was disappointed with the president's scripted remarks Monday responding to the shootings. His speech included a denunciation of "racism, bigotry and white supremacy" and a declaration that "hate has no place in America." But he didn't mention in those remarks any new efforts to limit sales of certain guns or support for universal background checks before all gun purchases.
However, on Wednesday, the president said he was "all in favor" of universal background checks, a statement he reneiged on following the Valentine's Day massacre at a Parkland, Fla., high school in February 2018.
In a blistering speech in Iowa on Wednesday, former Vice President Joe Biden, accused President Trump of having "fanned the flames of white supremacy," while U.S. Sen. Cory Booker of New Jersey, speaking at Mother Emanuel Church in Charleston, S.C., where an avowed white supremacist shot and killed nine people during Bible study in 2015, blamed the president for sowing similar hatred.
Both Mr. Biden and Sen. Booker are seeking the Democratic nod for president in 2020.
But in El Paso, where more protests were expected with the president's visit late Wednesday afternoon, Raul Melendez, whose father-in-law, David Johnson, was killed in Saturday's shooting, said the most appropriate thing President Trump could do was to meet with relatives of the victims.
"It shows that he actually cares if he talks to individual families," said Mr. Melendez, who credits Mr. Johnson with helping his 9-year-old daughter survive the attack by pushing her under a counter. Mr. Melendez, an Army veteran and the son of Mexican immigrants, said he holds only the shooter responsible for the attack.
"That person had the intent to hurt people, he already had it," he said. "No one's words would have triggered that."
Former President Barack Obama took to social media on Monday to criticize racist rhetoric spouted by public officials. Without calling President Trump by name, he wrote, "We should soundly reject language coming out of the mouths of any of our leaders that feeds a climate of fear and hatred or normalizes racist sentiments."
President Trump isn't the only one in the spotlight following the shootings. Public outcry is growing against Walmart's continued sale of firearms in its stores. The retail giant, one of the largest outlet for gun sales in the nation, previously removed military-style, semiautomatic assault rifles from their stores in 2015 and raised the age for gun purchases from 18 to 21 in 2018.