Priest who brought Black Power into the Catholic Church dies at 87
Matthew Cressler | 12/6/2019, 6 a.m.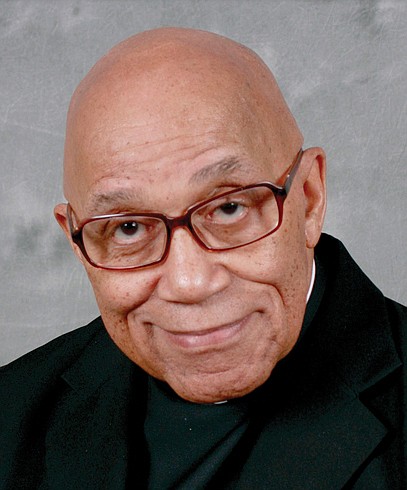 Thanksgiving week began in mourning for the Catholic Archdiocese of Chicago and many black Catholics as news came that the Rev. George H. Clements died on Monday, Nov. 25, 2019. Only the second black priest ordained by the Chicago archdiocese, Rev. Clements had a profound impact on the American Catholic Church, the city of Chicago and countless lives across the country in his more than 60 years of service.
Headlines linked him to Dr. Martin Luther King Jr., our touchstone for the civil rights era. But Rev. Clements is better understood as a black Catholic transformed by Black Power, a man who helped create space to be both "authentically Black" and "truly Catholic."
Certainly, Rev. Clements was present at Dr. King's March on Washington for Jobs and Freedom in 1963, along with parishioners from St. Dorothy Catholic Church in the Bronzeville neighborhood on Chicago's South Side. He answered Dr. King's call to march from Selma to Montgomery, Ala., for voting rights in 1965. But he was revolutionized by Dr. King's assassination in 1968.
When asked, "When did you first think of yourself as black and Catholic?" he answered with the clarity of a conversion story. "I can pinpoint the exact moment. April the 4th, 1968, a bullet whizzed through the head of Martin Luther King. I looked in the mirror and I said from now on, I'm gonna be a black man."
He was not alone. Dr. King's assassination ignited a decade of activism and institution building known as the Black Catholic Movement. Black nuns, priests and lay people declared the American church a "white racist institution," experimented with new ways of worship and fought for black self-determination in the pre-dominantly white church.
Rev. Clements was dear friends with the charismatic young revolutionary Fred Hampton and came to be known as the honorary chaplain of the Illinois Chapter of the Black Panther Party, headed by Mr. Hampton and Bobby Rush. Rev. Clements helped found the Afro-American Patrolmen's League, which fought to reform racist policing practices in the Chicago Police Department.
In return, the Black Panthers allied with black and white Catholics in protest when the archbishop refused to promote Rev. Clements to pastor of his predominantly black parish in 1968. Together, they occupied Catholic churches in the middle of Mass, celebrated "Black Unity Masses" and demanded black control of Catholic institutions in black neighborhoods. With their help, Rev. Clements won the pastorate of Holy Angels parish, which he would transform into one of the most prominent parishes in the country.
Rev. Clements' life story is emblematic of the long history of black Catholics in the United States. His father hailed from Lebanon, Ky., in the state's "Holy Land" region settled in the 18th century by white and enslaved black Catholics from Maryland. These enslaved black Catholics demonstrated an "uncommon faithfulness," as the theologian M. Shawn Copeland has put it, maintaining their membership in the church in the face of the violence of enslavement and later segregation inflicted by their white co-religionists.