Play about first African-American priest in U.S. highlights current issues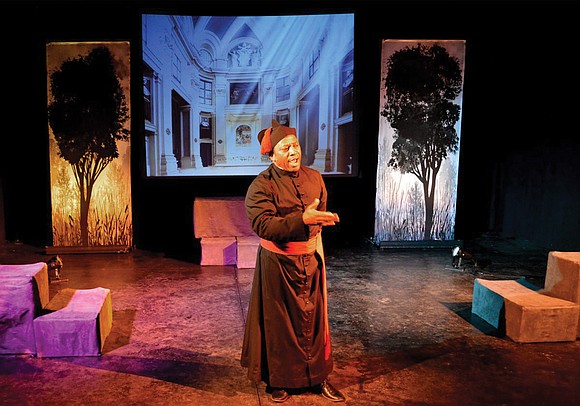 PASADENA, Calif. Actor Jim Coleman stood at the front of a dimly lit stage and recounted the joys and hardships of being a black man of Catholic faith. As the star of the play "Tolton: From Slave to Priest," Mr. Coleman was portraying the life of the Rev. Augustus Tolton, the first known African-American to serve as a Catholic priest in the United States.
The one-man multimedia performance, presented by Saint Luke Productions, toured several parishes in the Archdiocese of Los Angeles during Black History Month.
Rev. Tolton, born into a family of enslaved people in Missouri, escaped during the Civil War with his mother and siblings and settled in Illinois. His father had already escaped to join the Union army and his family later learned of his death.
In Illinois, Rev. Tolton, who had been baptized in his former owners' Catholic faith, faced pushback from peers and parents while attending all-white Catholic parish schools, according to Rev. Tolton's biography provided by the Archdiocese of Chicago.
Undeterred, Rev. Tolton pursued the priesthood, studying in Italy after U.S. seminaries refused to admit a black man. He was ordained at the age of 31 in 1886.
In the play, Rev. Tolton refers to the United States as "foreign land" where, after "living in freedom for six years," he returned after finishing the seminary.
Rev. Tolton was sent to Chicago, where he helped oversee the construction of St. Monica's Catholic Church, an African-American parish. Known as "Father Gus," Rev. Tolton spent much of his career seeking help for the poor in the community.
In June 2019, Pope Francis officially declared that Rev. Tolton "lived a life of heroic virtue," and the priest is now on the path for sainthood.
His cause for canonization was opened by the Archdiocese of Chicago in 2010.
In Pasadena, the seats were filled for a showing of the play at St. Andrew Catholic School in mid-February. Some cheered and others cried as the play demonstrated how Rev. Tolton's faith helped him cope with the racism he encountered before he went into the seminary.
"People need to see that their spiritual life can help give them the strength to persevere in troubling times," said Edwina Clay, president of the Altadena/Pasadena Black Catholic Association, who said the play was still relevant.
The Archdiocese of Los Angeles, which hosts Masses in about 40 languages, has been lauded for its diversity, but in its more than 80-year history, only one U.S.-born black pastor has served in its parishes.
It's a problem that spills down to the pews, Ms. Clay said. "If young people don't see folks who look like them, they don't have any aspiration to be like them."
Black Catholics have made up a stable 3 percent of U.S. Catholic membership for decades, with significant numbers of African-Americans in dioceses in Brooklyn, N.Y.; Los Angeles; San Bernardino, Calif.; and Baltimore, according to the United States Conference of Catholic Bishops.
(Of the 222,000 Catholics in the Diocese of Richmond, 6,200 are African-American, officials said in late 2018.)