Ravens QB Lamar Jackson set to break rushing record
Fred Jeter | 12/13/2019, 6 a.m.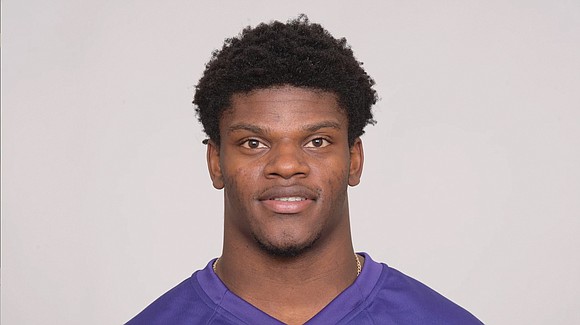 As quarterbacks go, Lamar Jackson has a great arm — and perhaps even better feet.
Jackson, who was drafted by the NFL Baltimore Ravens in the 2018 first round, is on the verge of placing his name at the tip-top of the list for dual-threat quarterbacks.
A national TV audience will be witness Thursday, Dec. 12, as Jackson is likely to break the all-time mark for quarterback rushing yards. Baltimore will play host to the New York Jets, with kickoff at 8:20 p.m.
Jackson has run for 1,017 yards this season. The record, set by then-Atlanta Falcon Michael Vick in 2006, is 1,039 yards.
Jackson, the 2016 Heisman Trophy winner from the University of Louisville, has scored seven touchdowns rushing this season, while averaging 6.7 yards per carry.
It's not like the 6-foot-2, 212-pound native Floridian is one dimensional.
He has passed for 2,677 yards, with 28 touchdowns and only six interceptions for the 11-2 Ravens.
Once Jackson eclipses Vick for the seasonal record, here are some other milestones at which he can take aim:
• Most rushing yards by a quarterback for a career: Vick, 6,109 yards.
• Most rushing touchdowns during a career: Cam Newton (still active), 58.
• Most rushing touchdowns during a season: Newton, 14 in 2011.
Deserving a mention on any "all-time" list is former Canadian Football League standout Damon Allen, who played in college at Cal State-Fullerton. Allen, the brother of former NFL star Marcus Allen, ran for 11,920 yards and 93 touchdowns in a glowing CFL career from 1985 to 1993.