House votes to impeach President Trump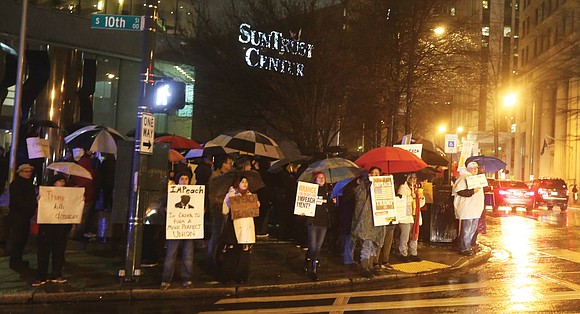 "Can you believe that I will be impeached today," President Trump tweeted Wednesday as part of an angry rant that ripped his foes for this "terrible thing."
His message reflected the foregone conclusion that he would become the third president to be impeached by the U.S. House of Representatives since the federal Constitution went into effect in 1789.
Around 8:30 p.m., 229 Democratic members in the House majority made it official by voting to impeach President Trump on the first article — abuse of power. The lone independent in the House voted with the Democrats. Two Democrats voted against the article of impeachment, while one, Rep. Tulsi Gabbard of Hawaii, who is running for the Democratic nomination for president, voted present.
On the Republican side, 195 voted against the article of impeachment and two did not vote. (Four House seats are vacant.)
Minutes later, around 8:42 p.m., a majority of the House passed the second article of impeachment — obstruction of Congress — by a vote of 229-198, with Rep. Gabbard again voting present.
President Trump joins Andrew Johnson in 1868 and Bill Clinton in 1998 as the only presidents to face a U.S. Senate trial. A fourth president, Richard Nixon, resigned in 1974 before a House vote on impeachment.
As in the case of Presidents Johnson and Clinton, President Trump is expected to be acquitted during a Senate trial by the Republican majority.
The abuse of power relates to the exposure of President Trump's effort to gain political advantage in the 2020 election by trying to force leaders of Ukraine to launch a corruption investigation against former Vice President Joe Biden and his son, Hunter Biden. Mr. Biden is a potential Democratic candidate against President Trump in the November 2020 election.
The impeachment articles allege that President Trump withheld nearly $400 million in military aid from Ukraine in an effort to force an investigation.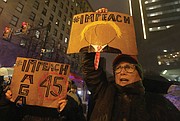 President Trump ended up releasing that aid after a complaint against him was filed with an internal investigator and reported to Congress.
The impeachment inquiry began after the Wall Street Journal reported on the complaint about the president's actions on Sept. 24.
The obstruction charges relates to President Trump's refusal to provide information congressional committees have sought on his actions toward Ukraine and his decision to bar members of his administration from testifying before Congress.
During the debate, Democrats declared they were living up to their oath to support and defend the Constitution against a president who had abused his authority and dishonored his oath, while Republicans called it a sham investigation that had found no evidence that President Trump had done anything wrong or violated his oath of office.
Polls show the country is split over whether President Trump's actions merit impeachment or removal from office.
The real poll will come in November during the next presidential election.