Black history Month calendar
2/1/2019, 6 a.m.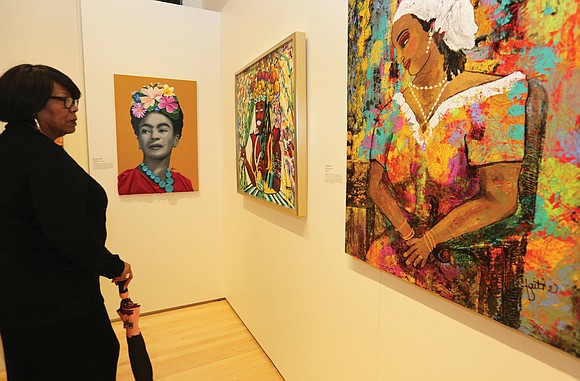 From films to speakers to talent shows and panel workshops, area organizations, churches, schools and museums are holding a plethora of events in February to celebrate Black History Month.
The following compilation includes information submitted to the Richmond Free Press:
Ongoing exhibit "I See Me! A Reflective Look at Black Dolls" showcasing 100 black dolls from the private collection of Richmond sisters Grace E. DeLoatch (deceased) and Dr. Vasti DeLoatch at the Black History Museum & Cultural Center of Virginia, 122 W. Leigh St. Information: blackhistorymuseum.org.
Ongoing exhibit "Growing Up in Civil Rights Richmond: A Community Remembers" showcasing the oral histories and photo portraits of 30 Richmond residents whose lives were altered as youngsters during the Civil Rights Movement. Through May 10. Joel and Lila Harnett Museum of Art, University of Richmond's Modlin Center for the Arts, 453 Westhampton Way. Details: www.modlin.richmond.edu
Friday, Feb. 1, 5:30 p.m. MLK Monthly Movie Series at Martin Luther King Jr. Middle School, 1000 Mosby St., hosted by the school and the East End Community Parent Teacher Organization. First movie: "SELMA." Series continues each Friday in February and then once a month until June. Light refreshments will be provided. Contact: Inett Dabney, principal, (804) 780.8011 or idabney@rvaschools.net; Felicia Cosby, 6th District School Board representative, fcosby@rvaschools.net.
Friday, Feb. 1, 6:30 to 9 p.m. Opening reception for "Representation Matters" exhibit reflecting the importance of racial, historical and creative freedom in the fiber arts genre symbolized in quilting by members of the Kuumba African-American Quilter's Guild of Richmond. Richmond Public Library Main Branch, 101 E. Franklin St. Contact:  Lynn Vandenesse, (804) 646-7223.
Friday, Feb. 1, 7 to 9:30 p.m. Jay Baxter "Live" musical performance hosted by comedian Antoine Scott at Virginia State University Gateway Dining & Event Center, 2804 Martin Luther King Drive, Colonial Heights. Registration: http://library.chesterfield.gov or call (804) 751-2275.
Friday, Feb. 1, 7 p.m. GENERATION DREAM 2019 presented by Richmond Peace Education Center and featuring talented Central Virginia youths, Richmond Public Library Main Branch, 101 E. Franklin St. Free and open to the public. Information: (804) 232-1002 or email rypp@rpec.org.
Friday, Feb. 1, 6:30 to 7:30 p.m. Lecture: Masking Traditions of the Congo featuring Dr. Manuel Jordan, deputy director, chief curator and curator for Africa of the Musical Instrument Museum in Phoenix, Ariz. Tickets, $8; $5 for museum members; in museum's Leslie Cheek Theater. Enjoy Congolese popular music with David Noyes, host of Ambiance Confo WRIR, in Cochrane Atrium from 6 to 8:30 p.m. Free. Virginia Museum of Fine Arts, 200 N. Boulevard. Details: (804) 340-1400 or www.vmfa.museum.
Friday, Feb. 1, 5 to 7 p.m. Opening celebration of "Hope, Faith and Courage: Early Civil Rights Leaders in Richmond" exhibition featuring early activists John Mitchell Jr., Maggie L. Walker, James E. Jackson, Rosa Dixon Bowser and Hezekiah F. Jonathan. Exhibit will run through March 22. University of Richmond Downtown's Wilton Companies Gallery, 626 E. Broad St. Details: (804) 289-8000.
Saturday, Feb. 2, 11 to 11:45 a.m. Take a Giant Leap with the Rainbow Puppets on a journey through the history of flight with the Tuskegee Airmen. Chester Library, 11800 Centre St., Chester. Registration: http://library.chesterfield.gov or call (804) 751-2275.