Black History Month program to focus on civil rights icons Oliver W. Hill Sr. and Spottswood W. Robinson III
2/21/2020, 6 a.m.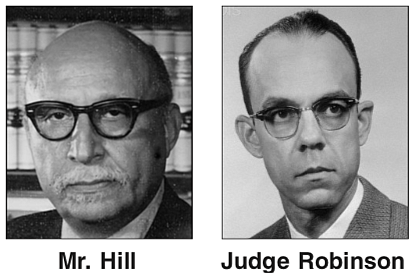 Noted Richmond civil rights attorneys Oliver W. Hill Sr. and Spottswood W. Robinson III and their role in the landmark Brown v. Board of Education decision that legally ended school segregation is the focus of a program, "Racial Segregation: Then and Now," to be presented by the Chesterfield County Public Library.
The discussion will be held 2 to 3:30 p.m. Saturday, Feb. 22, at the Bon Air Library, 9103 Rattlesnake Road in North Chesterfield.
Author and journalist Margaret Edds, whose book, "We Face the Dawn," documents the work of the late lawyers, will lead the discussion, along with Dr. John Moeser, professor emeritus at Virginia Commonwealth University, who studies race and politics.
Mr. Hill died in 2007 at age 100; Judge Robinson, who went on to serve on the U.S. Court of Appeals for the District of Columbia, died in 1998 at age 82.
Their legal work in helping overturn the "separate but equal" doctrine in U.S. education that kept black students in segregated and dilapidated schools has been immortalized on a statue in Capitol Square in Downtown. State historic markers honoring the two icons were unveiled earlier this month and are located on the Bank Street side of the Lewis F. Powell Jr. United States Courthouse in Downtown.
The program is free. Registration is required at library.chesterfield.gov or (804) 751-2275.