Fairfax battles sexual assault allegation
Reginald Stuart | 2/8/2019, 6 a.m. | Updated on 2/14/2019, 3:57 p.m.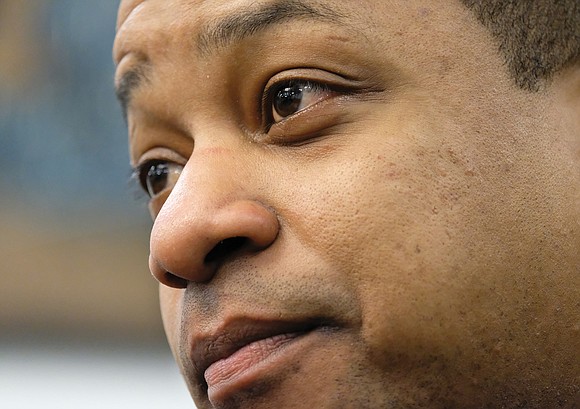 Lt. Gov. Justin E. Fairfax, a 39-year-old rising star in the state Democratic Party, is battling to save his political career after being hit with a shocking allegation of sexual assault that dates back 15 years.
The allegation emerged late Sunday on Big League Politics, the same political blog that earlier posted the bombshell, racist photo that undermined Gov. Ralph S. Northam's grip on power.
In line to succeed Gov. Northam if the governor bows to pressure and resigns, Lt. Gov. Fairfax issued a forceful denial by 3 a.m. Monday, calling the allegation "false and unsubstantiated."
But as he quickly learned, such allegations are hard to dispel, particularly after he acknowledged he had a consensual relationship with the woman, now a fellow at Stanford University and a professor at Scripps College, also in California.

By Wednesday, his accuser, Dr. Vanessa Tyson, had hired a lawyer and had gone public with her own lurid account of what happened.
As the National Organization of Women called for the lieutenant governor's resignation, it was clear that he had suffered damage from the political bombshell.

The allegation has left the General Assembly reeling, particularly the state Senate where Lt. Gov. Fairfax serves as presiding officer and votes to break ties.
In the wake of the Northam situation, the state Democratic Party, as well as the separate Democratic Caucuses in the House and Senate, did not rush to defend Mr. Fairfax, particularly with women being a large share of their membership.
Instead, there were cautious statements, such as this one from the House Democrats: "The facts here are still being determined. Every individual deserves the opportunity to be heard, and we respect anyone who comes forward to share their story."
The public allegation also was spiced with political intrigue after Big League Politics disclosed that an unnamed tipster sent the outlet a screenshot of a private Facebook post that Dr. Tyson had sent to a private group that included a Richmond friend, Adria Scharf, executive director of the Richmond Peace Education Center.
Dr. Scharf gained Dr. Tyson's permission to resend the post to others in another private Facebook group. Dr. Scharf said that the screenshot of her post was taken "without my knowledge or consent," and transmitted to Big League Politics. She said she does not know who took the screenshot.
Dr. Scharf is married to a University of Richmond professor, Dr. Thad Williamson, who has been a top adviser to Mayor Levar M. Stoney, who is considered a potential rival to Lt. Gov. Fairfax for the governorship.
The initial email did not name the lieutenant governor as Dr. Tyson's alleged perpetrator, though the political blog indicated that the references were to him and an incident that occurred in 2004.
"Imagine you were sexually assaulted during the DNC Convention in Boston in 2004 by a campaign staffer. You spend the next 13 years trying to forget it ever happened. Until one day you find out he's the Democratic candidate for statewide office in a state some 3000 miles away, and he wins that election in November 2017," the posted screenshot from Dr. Tyson to Dr. Scharf states "Then, by strange, horrible luck, it seems increasingly likely that he'll get a VERY BIG promotion."