Gilmore rolls back to Richmond to boost VCU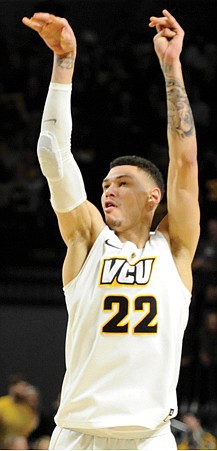 Gilmore history
On Feb. 6, 1970, area basketball fans got a close look at then little-known 7-foot-2 center Artis Gilmore of visiting Jacksonville University in Florida.
The Gilmore-led Dolphins crushed the University of Richmond 88-49 at the former Richmond Arena.
That season, Jacksonville went on to reach the NCAA finals before losing to UCLA.
Everything about Michael Gilmore is big — his height (6-foot-10), his wingspan (7-foot) and his shooting range (well beyond the 3-point arc).
His basketball journey has been long, too.
The well-traveled Virginia Commonwealth University graduate student showed off that long-distance touch last Saturday in the Rams 79-63 win over George Mason University at a sold out Siegel Center with 7,637 fans.
Off the bench, Gilmore hit three of four 3-pointers in the second half, helping the Rams escape what had been a touch-and-go Atlantic-10 conference affair.
Gilmore's 11 points in 11 minutes were the difference against the visiting Patriots, who came to Richmond atop the A-10 standings.
"I'm so proud of Michael," said Rams Coach Mike Rhoades. "The season may not have gone as he hoped, but he's kept a great attitude and worked his butt off. He deserved a game like this."
Although he is the tallest member of the Rams, Gilmore may be more dangerous from a distance than closer to the hoop. Of his 47 field-goal attempts this season, 22 have been launched outside the arc.
As a freshman in 2016, Gilmore helped VCU nearly upset the University of Oklahoma in the second round of the NCAA Tournament. In a reserve role, Gilmore hit four of four shots against the Sooners, including two-for-two beyond the arc, finishing with 12 points in an 85-81 loss.
VCU's victory over George Mason improves the Rams to 15-6 overall, 6-2 in the A-10 and 11-1 at home.
Typically, the Rams benefit from superior depth coming off the bench. It has been said the VCU bench alone could finish in the top half of the A-10.  
The Rams travel to play St. Bonaventure University at 2 p.m. Saturday, Feb. 9, in New York, then return home to face the University of Richmond at 7 p.m. Wednesday, Feb. 13.
Gilmore is a native of Jacksonville, Fla., and nephew of Naismith Hall of Famer Artis Gilmore. He's one of at least two VCU players with very famous relatives. The 1992-93 Rams included Rich Mount, son of College Basketball Hall of Famer Rick Mount.
Michael Gilmore is the son of Sabirah and the late Earl Gilmore of Jacksonville. Earl Gilmore died in 2015 when Michael was a VCU freshman.
Between then and now, Gilmore transferred to the University of Miami, where he did not play, and then to Florida Gulf Coast University for two seasons of action.
His suitcase is well worn. Gilmore carried his jump shot from his hometown of Jacksonville to Richmond, to Coral Gables, Fla., to Fort Myers, Fla., and now back to VCU, where he was originally signed by former Coach Shaka Smart.
It's a long story, with time for a few more chapters.