Dr. Clara S. McCreary, longtime math professor at VUU, dies at 99
1/18/2019, 6 a.m.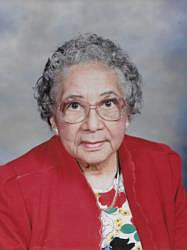 Dr. Clara Novella Sutton McCreary loved mathematics, and for nearly 42 years she shared that love with students at Virginia Union University.
"My mother taught all the upper level math courses and also coordinated the pre-engineering courses." said her daughter, Edwina Richmond, who followed in her mother's footsteps in teaching math at VUU.
"She was regarded as a stellar teacher and had an enormous impact, as many of the students whom she trained went on to successful careers as computer scientists, engineers, mathematics teachers, educational administrators, engineers and computer scientists," Ms. Richmond said.
"She was studious and organized, but she also was outgoing," her daughter said. "As the wife of a pastor, she was first lady of numerous churches and had to be welcoming to everyone."
Dr. McCreary's contributions to education and to area churches are being remembered following her death on Wednesday, Jan. 9, 2019. The longtime Richmond resident, who lived just a few blocks from the VUU campus, was 99.
Family and friends will celebrate her life during a service at 11:30 a.m. Friday, Jan. 18, at Ebenezer Baptist Church, 216 W. Leigh St. Dr. James E. Leary, the interim pastor, is to deliver the eulogy.
The family will receive friends 6 to 7:30 p.m. Thursday, Jan. 17, at Scott's Funeral Home Chapel, 115 E. Brookland Park Blvd., with the AKA Memorial Service starting at 6 p.m.

Born in Caroline County, Dr. McCreary grew up in Richmond and won early recognition as a math whiz. She was valedictorian of the Armstrong High School Class of 1937 and then pursued her math interest at VUU, graduating summa cum laude in 1941.
While at VUU, she met her future husband, the late Dr. Edward Daniel McCreary Jr., who served as pastor and interim pastor of 14 area Baptist churches, most notably Westwood and Mount Carmel. He also taught undergraduate and graduate seminary courses for 39 years at VUU.
The couple wed in 1946, a year after she completed her master's degree at the University of Pennsylvania, and were together for 68 years until his death in 2014.
Dr. McCreary joined the VUU faculty in 1948 and later added a doctoral degree to her résumé in 1975 from the University of Virginia.
She served as coordinator for VUU's pre-engineering program and also was promoted to chair of the VUU Mathematics Department in 1975 after earning her doctorate, a position she held until her retirement in 1990.
During her career, Dr. McCreary received National Science Foundation fellowships that allowed her to study at Columbia University, Vanderbilt University, Rutgers University and the University of North Carolina.
She was a member of Alpha Kappa Alpha Sorority for 78 years and belonged to the Upsilon Omega Chapter. She also was a member of the Ministers' Wives and Widows Fellowship of Richmond and Vicinity for 72 years.
She was a member of Ebenezer Baptist Church since 1989 and participated in Ebenezer's Seasoned Spices Forever Young Seniors' Ministry and in the Shining Stars Seniors' Ministry at Star Fellowship Baptist Church.
Dr. McCreary also belonged for 64 years to the Treble Clef and Book Lovers'Club that was founded at VUU and to the Chamberlayne Chapter 390 of the American Association of Retired Persons.
Her daughter is Dr. McCreary's only immediate survivor.
VUU has endowed a scholarship in the name of Dr. McCreary and her husband for students majoring in math, physics, computer information systems or religious studies. The family requests that in lieu of flowers, memorial contributions be made to the McCreary Scholarship Fund at VUU.