VCU's Marcus Evans on course for record books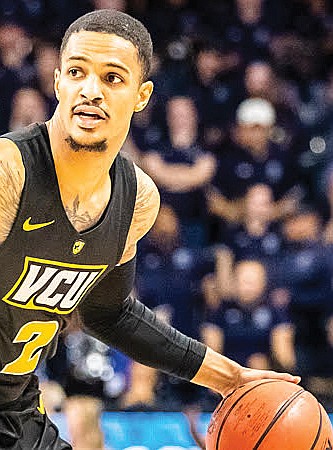 Virginia Commonwealth University's leading basketball scorer, Marcus Evans, is back where it all started for him — in the 804 area code.
The son of Aaron and Shajuan Evans grew up in Chesterfield County, near Swift Creek Elementary School where his sisters were students. The Evans family moved to Chesapeake when Marcus was a young child and that's where he began to polish his athletic star.
After early success in soccer and football, he chose to focus on basketball. It has proven to be a wise decision. Evans is on course to join a short list of athletes to score at least 1,000 points at two different Division I schools.
The 6-foot-2 junior guard scored 1,350 points in two seasons at Rice University in Houston before transferring to VCU. He has played for Coach Mike Rhoades at both universities.
Evans, clearly an All-Atlantic 10 candidate, leads the Rams this season in scoring (13.7 per game), assists (41) and steals (31). Evans rose to the occasion in VCU's 76-71 home win over the University of Dayton on Jan. 16.
With the game in balance, Evans swished a tie-breaking 3-pointer and added four crucial free throws in the final seconds as the Rams improved to a 12-5 record.
Before college, Evans was the co-5A State Player of the Year at Great Bridge High School in Chesapeake and All-State Virginia Independent Schools at Cape Henry Collegiate in Virginia Beach. He was re-classified and spent one extra season at Cape Henry.
Great Bridge High is the same school that produced former Rams standout Briante Weber, a career steals leader, and also VCU women's great Quanitra Hollingsworth, whose No. 00 jersey is retired.
Evans boasts an athletic family tree. His maternal grandfather is the late George Moody, who was a top football running back at Virginia State University and later the Trojans' head coach.
Evans' father, Aaron Evans, played basketball at Cathedral High in Chicago, once guarding Isaiah Thomas of St. Joseph's in Westchester.
"I held him to 40," Mr. Evans recalled. "Someone had to guard him. I drew the short straw."
Marcus isn't the first member of his family to choose VCU. His older sister, Brandy, is a VCU graduate.
Evans has a chance to play 60 to 70 games at VCU in two seasons. If he averages close to 15 points per game, he could become only the fifth man to score at least 1,000 points at two Division I institutions.
Others are Jon Manning (Oklahoma City and North Texas); Kenny Battle (Northern Illinois and Illinois); Gary Neal (LaSalle and Towson); and Juan-ya Green (Niagara and Hofstra).
Former VCU forward Chris Cheeks scored 1,273 points at VCU from 1987 to 1989, and more than 1,000 points at Lon Morris College, a junior college in Jacksonville, Texas.