49ers' Marquise Goodwin wins '40 Yards of Gold' competition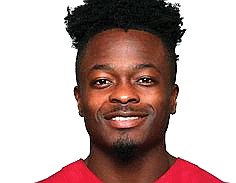 Marquise Goodwin's fast feet have made him $1 million richer.
The 28-year-old San Francisco 49ers receiver won the inaugural "40 Yards of Gold" competition June 29 in Miami.
The event was created to determine NFL's fastest man.
Goodwin defeated Carolina Panthers defensive back Donte Jackson in the finals.
The winning purse in the Pay-Per-View event was $1 million.
The 16-man competition included eight offensive and eight defensive players who ran a 40-yard dash to see who was fastest. Both Goodwin and Jackson survived three qualifying rounds to meet in the final. Goodwin's winning time of 4.3 seconds nipped Jackson by less than one-tenth of a second.
Both Goodwin and Jackson have strong track and field backgrounds. Goodwin represented the United States as a long jumper in the 2012 Olympic gold medal competition.
Jackson was part of the Southeastern Conference's victorious 4x100 relay effort for Louisiana State University.
Richmonder Kevin Snead, who signed a free-agent contract with the New York Giants in 2017 but was released after a hamstring tear, was on the ballot, but failed to receive enough votes to qualify for the 16-man competition.
Snead starred in track and field at George Wythe High School and Carson-Newman University in Tennessee and played one season of college football.