Serena loses title, but remains committed to the fight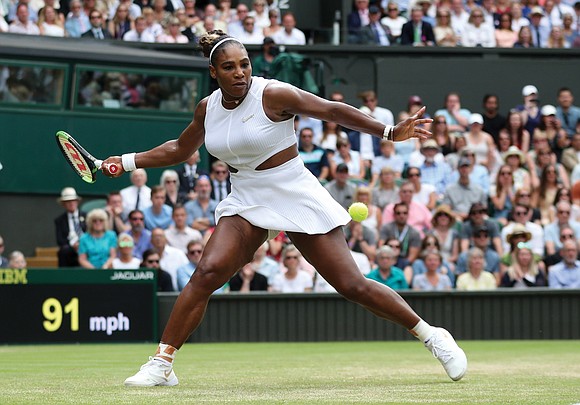 LONDON - Tennis star Serena Williams remained tantalizingly one short of a record-equaling 24 Grand Slam singles titles as Simona Halep thrashed the off-key American in a one-sided Wimbledon final last Saturday.
Even when Serena fired herself up at the start of the second set and began thumping the ball with her customary power, seventh seed Halep refused to back off. Halep weathered the squall, then reeled off the last five games of what she described as the match of her life.
The loss: 6-2, 6-2.
Serena has now lost three Grand Slam finals without winning a set since returning to action last March following the birth of daughter Olympia in September 2017. Serena had won nine of her previous 10 matches against Halep, but couldn't come up with a victory on Saturday.
"She played out of her mind," Serena said on court after picking up the runners-up salver for the second straight year, having run into a similarly inspired Angelique Kerber last year at Wimbledon.
"It was a little bit of deer in the headlights for me. Whenever a player plays like that, you just have to take your hat off."
Despite having only five tournaments under her belt this year, Serena, who won her first Wimbledon title in 2002, had looked calm and composed en route to her 11th Wimbledon final. She even had royal friends — Meghan Markle, the Duchess of Sussex, and her sister-in-law,
Kate, the Duchess of Cambridge — watching and cheering for her from the Royal Box.
But it didn't help. At one point, someone in the crowd yelled, "Wake up, Serena."
After the match, Serena issued a stinging rebuke to tennis legend Billie Jean King, who earlier during the tournament, suggested that Serena should focus on her game and stop behaving like a celebrity and stop fighting for equality. King said that running a business, looking after a child and battling for equality for minorities and women could largely be handled by Serena's staff while she took a couple of years to focus on her tennis.
That didn't sit well with Serena, who addressed King's remarks after losing to Halep.
"The day I stop fighting for equality and for people that look like you and me will be the day I'm in my grave," Serena said.