Ground-breaking ceremony Saturday for VCU's new inpatient children's hospital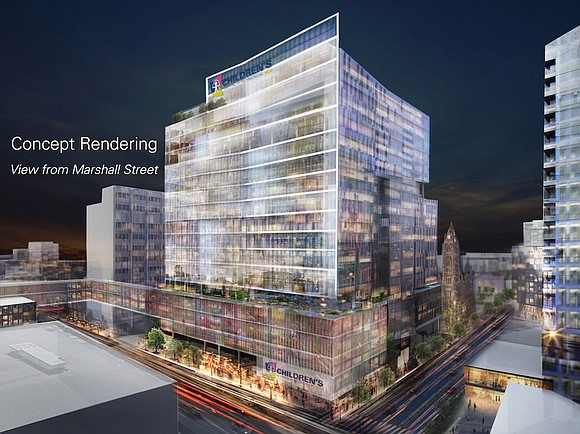 Workers are still tearing down the old mirror-faced Marshall Street Pavilion — once an outpatient center for children — on the medical campus of Virginia Commonwealth University.
Still, at 10 a.m. Saturday, June 8, Virginia Commonwealth University will hold a ground-breaking ceremony for a long-awaited inpatient children's hospital that will rise 16 stories on Marshall Street, between 10th and 11th streets, next to Richmond City Hall.
The new building will back up to the 15-story Children's Pavilion that opened in 2016, largely completing a revamping of the Children's Hospital of Richmond at VCU.
Essentially, virtually everything pediatric at the hospital will be together when the new building opens in late 2022. The actual start of the new building's construction is still months away, with an expectation work will begin next spring.
The new hospital is to include 86 beds in private rooms with space to expand to 125 beds; six observation beds; operating rooms; an imaging center; offices and an emergency department, which is to move from the Critical Care Hospital when the new children's hospital opens, according to VCU. One element that will not be part of the new space is the neonatal intensive care unit for premature babies.
VCU expects to spend $345 million on construction, with a total of $420 million to be invested when equipment, site work and architectural and engineering costs are included. The total is two-thirds the estimated price for an independent children's hospital that was proposed in 2012 and for the pediatric hospital VCU and Bon Secours contemplated when they briefly considered a joint project.
The new inpatient Children's Hospital of Richmond at VCU has been more than 13 years in the making and follows VCU's $90 million investment in hiring more pediatricians and specialists to beef up its pediatric offerings, according to officials.
VCU first considered its own children's hospital development around 2006 and later when the former Children's Hospital of Richmond merged with VCU in 2010.
The new building is getting underway as work continues on a $350 million outpatient center for adults at 10th and Leigh streets.
Even after the new inpatient hospital opens, some elements of the Children's Hospital of Richmond located at Brook Road and Sherwood Avenue will remain, officials noted. That includes a pediatric mental health center that opened last year and the old children's hospital building that largely serves as a rehabilitation and recovery center for injured children and provides long-term care for children battling chronic diseases and illness.