Ambition, urgency at Democrats' gala
George Copeland Jr. | 6/21/2019, 6 a.m. | Updated on 6/21/2019, 9:45 a.m.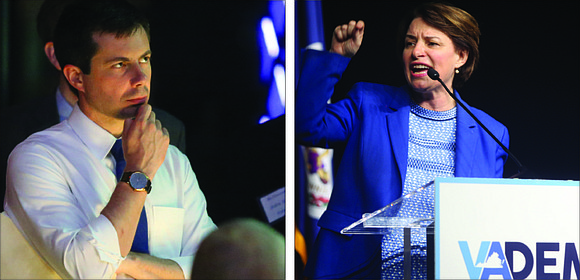 It was a night of big plans and high stakes last Saturday as nearly 1,800 Virginia and national Democrats, including two presidential hopefuls, gathered at Richmond's Main Street Station for the political party's annual Blue Commonwealth Gala fundraiser.
"We need to take back our country, and we need to make this the country that we have built, that we are so proud of, starting right here in the Commonwealth of Virginia," said U.S. Sen. Amy Klobuchar of Minnesota. She headlined the event with fellow presidential candidate Pete Buttigieg, mayor of South Bend, Ind.
Sen. Klobuchar and Mr. Buttigieg were among the high-profile speakers at the gala, a pep rally of sorts for Democrats leading into this fall's General Assembly elections and the 2020 presidential contest.
Speakers at the $150-per-person dinner included U.S. Sens. Mark R. Warner and Tim Kaine; Congresspersons A. Donald McEachin of Richmond, Abigail Spanberger