Anne Holton new interim president of George Mason
Free Press staff, wire report | 6/28/2019, 6 a.m.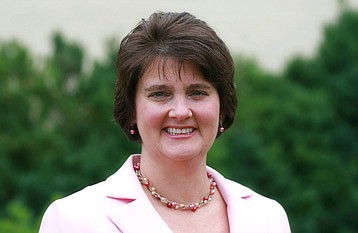 She has been called "First Lady," "Your honor," "Madame Secretary" and now "President."
Anne Holton, wife of Virginia's U.S. Sen. Tim Kaine, has been named interim president of George Mason University in Northern Virginia.
The university announced June 20 that Ms. Holton, who has been a visiting professor at George Mason since 2017, will lead the school beginning Aug. 1. She will be the university's first female president.
The 61-year-old Ms. Holton, an attorney by profession, has had a long life in the public eye. She is the daughter of former Gov. Linwood Holton and grew up, in part, in Richmond in the Executive Mansion and attended Richmond Public Schools during the early tumultuous days of school busing in the early 1970s. She attended Mosby Middle School in the East End and later graduated from Open High School.
She earned a bachelor's degree from Princeton University and a law degree from Harvard University, where she met fellow student Sen. Kaine, her future husband.
Following law school, Ms. Holton clerked for U.S. District Court Judge Robert R. Merhige Jr., whose controversial decision ordering the desegregation of Richmond schools led to school busing.
After working as an attorney for more than a decade with the Central Virginia Legal Aid Society, Ms. Holton was named to a judgeship in Richmond Juvenile and Domestic Relations District Court, where she served until 2005. She stepped down when her husband, a former Richmond City Council member and mayor, was elected governor and she became Virginia's First Lady.
Her key focus was in the areas of education and foster care, and in 2014, she was named Virginia secretary of education by then-Gov. Terry McAuliffe. She resigned the position in mid-2016, to help her husband in his vice presidential run with Democratic presidential nominee Hillary Clinton.
Since 2017, she has been a visiting professor at George Mason's School of Public Policy and Management and at the College of Education and Human Development. She also has been a visiting Fellow at George Mason's Center for Education Policy and Evaluation.
Current George Mason President Angel Cabrera is leaving to become the new president of the Georgia Institute of Technology.
The university's Board of Visitors plans to begin its search for a permanent president in the coming weeks. Ms. Holton said she won't be a candidate for the permanent role.
George Mason is a four-year, state-supported institution in Fairfax, with an undergraduate enrollment of more than 23,000 students. The university also announced last week that it is naming a science and technology building in honor of one of the NASA mathematicians whose story was told in the motion picture "Hidden Figures."
The building on Mason's Science and Technology campus in Manassas will now be known as Katherine G. Johnson Hall.

Mrs. Johnson, who is now 100, worked at NASA's Langley Research Center in Hampton beginning in the 1950s and performed many of the complex mathematical equations that determined flight paths and trajectories of space flights, including the Apollo 11 moon flight 50 years ago.
Mrs. Johnson was portrayed by actress Taraji P. Henson in the film.
The university also is creating a scholarship in Mrs. Johnson's name.