Hometown welcome
Democratic vice presidential nominee Tim Kaine returns to Richmond and rally of 3,500 cheering supporters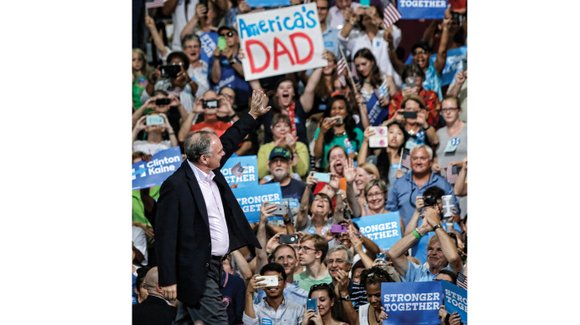 U.S. Sen. Tim Kaine made a triumphant return to Richmond, a smiling hometown hero as the Democrat's vice presidential nominee. He was greeted with the roars of a supportive crowd Monday at Huguenot High School, where he declared, "I'm so proud of my city."
Two weeks after presidential candidate Hillary Clinton named him her running mate, Sen. Kaine appears comfortable and confident in the national spotlight.
However, the former Richmond mayor and ex-Virginia governor acknowledges he's still getting used to the quirks of being elevated to another level in the political universe.
For one thing, the 58-year-old said he was surprised to find himself "described as the dorky dad" in the deluge of Twitter comments last week when he accepted the party's vice presidential nomination.
"That's different," he said from any of his past experiences on the campaign trail.

And as recognizable as he is already, it has become far harder for him and wife Anne Holton to move around without attracting notice.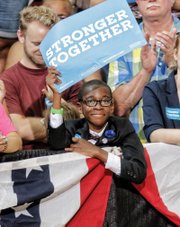 When he ran for Richmond and statewide offices, Sen. Kaine and Ms. Holton — the daughter of a former Virginia Republican governor, a former legal aid lawyer, a former juvenile court judge, a former Virginia first lady and former state secretary of education — used to be able to breeze almost unnoticed into their Laburnum Park neighborhood in North Side.
Now they're learning to live with a detail of Secret Service agents and black government SUVs conspicuously parked outside the house on Confederate Avenue where they've lived for 32 years, though the couple rarely expects to be there during the next 90-plus days of this whirlwind campaign.
It has been an adjustment, Sen. Kaine said in an interview with the Free Press following a celebratory homecoming rally at Huguenot High School, where at least 3,500 prospective voters turned out to hear him.

"I don't think she will mind me telling you that she burst into tears when we got home last night," Sen. Kaine said of his wife. "Maybe it was exhaustion and everything that has been going on, but she also was concerned about the impact we're having on our neighbors. They're telling me they don't mind. One neighbor told me, 'We now live on the safest street Richmond.' "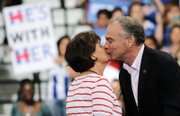 In an optimistic and upbeat nearly hourlong speech interrupted often by the cheers of the crowd, Sen. Kaine stressed the importance of Virginia in the race — a key reason many observers believe he is on the ticket, to ensure that Mrs. Clinton can win what is now a crucial swing state.
Until President Obama won the state with then-Gov. Kaine's help in 2008 — the first Democrat to do so in 44 years — the state was so reliably Republican in presidential elections that Democrats wrote it off, he said.
"Let's face it, we didn't really have to do our best work" before the Obama era, Sen. Kaine said. "We've come out of the shadows, we're on the main stage, the spotlight's on us, the pressure's on us to do the best work!"