Honoring Ashe's legacy
Editorials
6/28/2019, 6 a.m.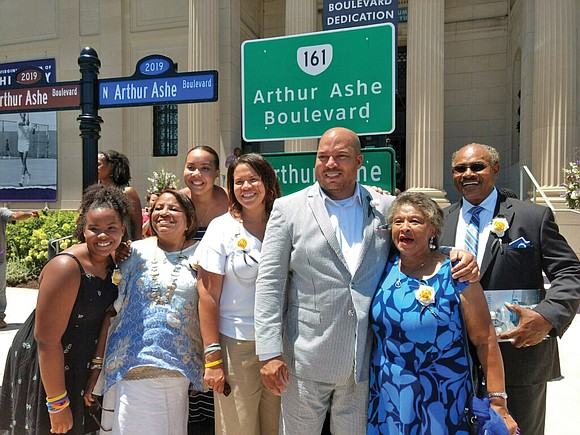 We are still basking in the gloriousness of the Arthur Ashe Boulevard street renaming ceremony and events last Saturday at the Virginia Museum of History & Culture. 
For the young and the seasoned alike, it was a day both of celebration and reflection. It was a day to think about the obstacles and triumphs in Arthur Ashe's life on and off the court and to contemplate the future of a city that once erected race-based roadblocks for a young Arthur on his road to glory and that more recently has battled internal conflicts before finally embracing and honoring Mr. Ashe in this way.
Speakers at the event offered stories about the perseverance and progress both of Mr. Ashe and of his native Richmond, which struggled mightily 23 years ago with the decision to place a statue honoring Mr. Ashe on Monument Avenue.
Richmond struggled again earlier this year before City Council finally approved renaming the 2.5-mile boulevard in this native hero's honor. 
This was the third time since 1993 that City Council was asked to consider naming a street for Mr. Ashe. And it took the hard work and collaborative efforts of Mr. Ashe's nephew, David O. Harris Jr. of Henrico County, and Richmond City Councilwoman Kim B. Gray to make it happen.
While Ms. Gray was not among Saturday's bevy of speakers, all of whom were male, she was acknowledged by four of them with thanks and high praise. Mr. Harris called her a "courageous and gracious leader."
Ms. Gray also was invited by Mayor Levar M. Stoney to come up through the crowd and help him and Mr. Harris unveil the new signs bearing the name Arthur Ashe Boulevard. The crowd loudly cheered as she made her way to the museum portico's landing for the day's highlight — the actual unveiling.
It was yet another lesson about inclusivity and recognizing someone's talents and contributions.
Several people in the crowd were moved to tears as the purple drape fell from the street signs, cannons blasted purple streamers into the air and the Sixth Mount Zion Baptist Church Choir sang "Lift Every Voice and Sing."
We acknowledge that pain often accompanies progress. But our hope is that Richmond will continue to move forward from a hurtful past to embrace Mr. Ashe's legacy lessons of fairness and equality, with efforts to help those who need assistance and understanding that inclusion makes us all better and stronger.
We hope Richmond will continue to make strides to honor those who rightly deserve it and to ensure that progress will be reserved not solely for a few, but for everyone.