Arthur Ashe Jr., 'A true champion': Thousands celebrate dedication of Arthur Ashe Boulevard
George Copeland Jr. | 6/28/2019, 6 a.m. | Updated on 6/28/2019, 9:33 p.m.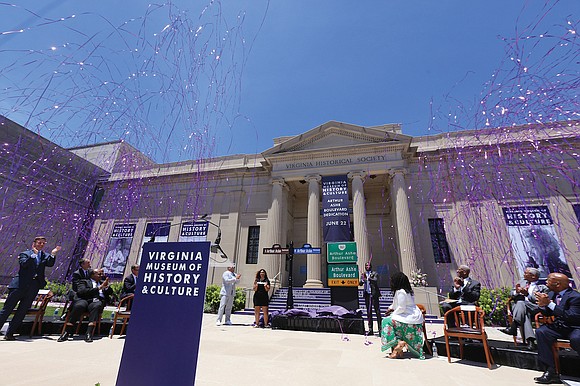 Local, state and national figures joined a crowd of thousands Saturday at the Virginia Museum of History & Culture to celebrate the official renaming of Arthur Ashe Boulevard.
"Today we celebrate a true champion in Richmond, not just a champion on the tennis court, but on the world stage for civil rights and for racial equality," Richmond Mayor Levar M. Stoney said.
The dedication, which saw the unveiling of new street signs for Arthur Ashe Boulevard, was the culmination of efforts over two decades to honor the tennis trailblazer and international human rights activist, with City Councilwoman Kim B. Gray, 2nd District, proving to be instrumental in the success of the latest effort when City Council approved the renaming in February. Similar efforts failed in 1993 and 2003.
Ms. Gray joined Mayor Stoney and Mr. Ashe's newphew, David O. Harris Jr. of Henrico County, in unveiling the new signs. The tarps were pulled off to loud booms of two cannons that fired purple streamers into the air. The crowd, on its feet with cellphones and other cameras, cheered and photographed the historic moment.
"One should never forget — our efforts together are epic," Mr. Harris said in his remarks to the huge crowd that stretched from the museum's lawn to the boulevard itself.
Mr. Harris was a leading figure behind the renaming effort, his words Saturday guided by his uncle's example in advocating for inclusivity and denouncing bigotry.
"If you find yourself a gatekeeper to discrimination and exclusionary tactics, give up your keys today," Mr. Harris told the applauding crowd.
Dozens of Mr. Ashe's relatives joined in Saturday's celebration, seated in a central section of the audience, with many wearing a yellow flower pinned to their lapels.
The mention of Mr. Ashe's ideals was a frequent feature of the day's speakers, including U.S. Sen. Tim Kaine, 4th District Congressman A. Donald McEachin, Gov. Ralph S. Northam and keynote speaker and civil rights icon, U.S. Rep. John R. Lewis of Georgia, and among many people in the crowd. Among the notables introduced at the program were Congressional Reps. Robert C. "Bobby" Scott of Newport News, Karen R. Bass of California, Ayanna Pressley of Massachusetts and Lt. Gov. Justin E. Fairfax.
Sen. Kaine talked about the protests and controversy that erupted in 1996 — when he was serving on City Council — surrounding the council's decision to place a statue of Mr. Ashe on Monument Avenue, a thoroughfare filled with statues to Confederates.
He applauded the current City Council and Ms. Gray for "this act of healing — the naming of the boulevard, a principle gateway into our city, to honor the great Arthur Ashe."
He called it an act of healing in a state and country "that still needs healing to this day."
The choice of the Boulevard to rename in Mr. Ashe's honor was an apt one. Mr. Ashe was barred in his youth from playing on the Byrd Park tennis courts that sit at the street's south end.
The courts wouldn't stay closed to him, however. Mr. Ashe would claim victory in the Davis Cup semifinals in Byrd Park in 1968. In 1963, he became the first black member of the U.S. team.
To date, Mr. Ashe remains the only African-American man to win singles titles at the U.S. Open, the Australian Open and Wimbledon.
The newly renamed street joins the Arthur Ashe Jr. Athletic Center on the northern end of the boulevard, the statue on Monument Avenue and the Arthur Ashe Tennis Courts in Battery Park in North Side as landmarks of the tennis great in a city still marked with a long history of racial inequality. Referring to the many Confederate statues along Monument Avenue that intersects Arthur Ashe Boulevard, Mayor Stoney described Mr. Ashe as "the only true champion on that block."
The occasion also was a fitting companion to Virginia's larger reckoning with its dark history, as part of the commemoration of the 400th anniversary of the arrival of the first captive Africans in 1619. That tribute includes a new exhibition at the Virginia Museum of History & ; Culture, "Determined: The 400 Year Struggle for Black Equality," which opened to the public following the ceremony.
"Four hundred years later, it's good to be here," Rep. Lewis proclaimed to cheers. He called on the assembled crowd to get in "good trouble, necessary trouble" when defending the marginalized and oppressed.
Audio clip
Congressman John Lewis-Arthur Ashe Jr. street naming
Like Rep. Lewis, Mr. Ashe was a tireless advocate for social justice. Mr. Ashe was arrested in 1985 for protesting against apartheid in South Africa and, in 1992, for protesting the treatment of Haitian refugees. Mr. Ashe also worked to educate people about HIV and AIDS, and sought to boost funding for AIDs research after publicly announcing his contraction of the disease in 1992.
"Think about Arthur Ashe, what he did, the contributions he made, coming out of this city, out of this state, out of this country," Rep. Lewis told the crowd.
While the midday heat led some in the audience to seek shelter and medical attention during the program, spirits remained high throughout, aided by an attentive cadre of volunteers who distributed water bottles and fans.
The sheer number of people present was a testament to the power of Mr. Ashe's legacy in his native city, even for those who knew little about him before the street renaming.
"Just renaming the boulevard made me research him more to find out that he was an activist — that he was more than just a great tennis player," said Alexandra Chambers, a 26-year-old nursing administrator. "It opened my eyes to see more of black culture" and history.
It was a day of pride for Jim Schuyler, a New York native who moved to Richmond in 2001. His uncle, the late Dr. Alexander Hersh, an orthopedic surgeon at the Hospital for Special Surgery in New York City, operated on Mr. Ashe's foot in the 1970s.
"My uncle didn't talk about his patients, but he was very proud of his (work with Mr. Ashe) and that the surgery was successful and Mr. Ashe came back and played," Mr. Schuyler said.
For Richmond native Billy McMullen, a former wide receiver for the NFL Philadelphia Eagles, the renaming is a potential rallying point for further positive change in the Commonwealth.
"I think it gives people a boldness and awareness," Mr. McMullen said. "And now those voices can rise up and say, 'Hey, we made it! Look at this!' and do something different here."
Rep. Lewis' final words to the crowd mirrored that sentiment: "We've come too far and we're not going back," Rep. Lewis said. "We're going forward!"