Markers unveiled honoring the late Dorothy I. Height, with small error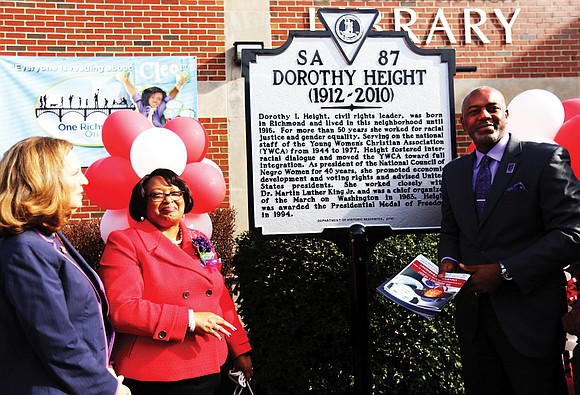 The unveiling of a new historical marker saluting late Richmond native Dorothy I. Height for her role as a national civil rights leader was a gala affair.
Sunday's event drew a big crowd to the ceremony at First Baptist Church of South Richmond on Decatur Street that included several of Ms. Height's relatives, Mayor Levar M. Stoney, Lt. Gov. Justin E. Fairfax, Gov. Ralph S. Northam and other officials and admirers of the woman former President Obama called the "godmother of the Civil Rights Movement."
Speaker after speaker sang the praises of Ms. Height, who received the Congressional Gold Medal in 2004 and the Presidential Medal of Freedom in 1994 in recognition of her fight to secure rights for women and African-Americans as the longtime leader of the National Council of Negro Women.
And then came the unveiling of the marker that now stands in front of Richmond Public Library's Hull Street Branch in the 1400 block of Hull Street.
Just one thing was missing — a second historical marker calling attention to Ms. Height's role in expanding the influence of Delta Sigma Theta Sorority as the group's 10th national president.
The state Department of Historic Resources had announced March 18 that the two markers would stand together and be unveiled at the ceremony.

Department spokesman Randall Jones acknowledged Monday in response to a Free Press query that the information had been inaccurate, but based on information he had at the time.
He stated that the department's oversight board had been expected to approve the sorority marker at a March 21 meeting, but that meeting was canceled.
In addition, the Richmond Alumnae Chapter of Delta Sigma Theta Sorority also learned only two weeks ago that it would need city permission to install the marker, according to Doris Bey, a representative for the chapter on the marker committee.
Monday night, 6th District City Councilwoman Ellen F. Robertson introduced legislation to secure that permission. The legislation, which could be adopted at the next council meeting, authorizes the city administration to accept the Delta marker valued at $2,700 to also be installed in front of the library.
Connie Cuffee, president of the sorority's Richmond Alumnae Chapter, said the sorority's marker was on view at a reception held after the unveiling of the state marker.
"We thought that our marker could just be put up beside the state marker, but then we found out it doesn't work that way," Mrs. Cuffee said Monday night after City Council presented her and other chapter members with a certificate of recognition honoring Ms. Height.
Mrs. Cuffee said another ceremony will be held to unveil the sorority marker after the state and city provide the necessary approvals.