Personality: Dr. David Randolph II
Spotlight on honorary chair of the 2019 Virginia Higher Education Fund 'Jazz InsideOut' annual benefit
5/18/2019, 6 a.m.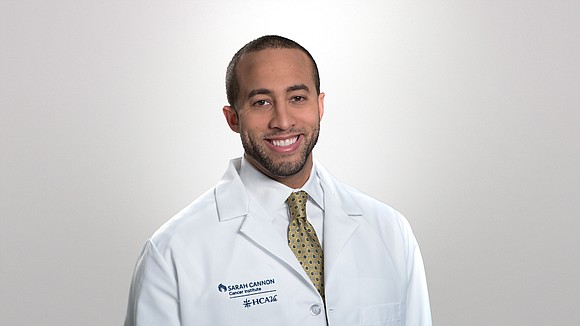 "If students do well, they can bring their knowledge and skills back to help advance their community," Dr. Randolph says. "That is the ultimate and best way to do it."
Meet education advocate and this week's Personality, Dr. David Randolph II:
Occupation: Radiation oncologist with the Sarah Cannon Cancer Center at Johnston-Willis Hospital.
No. 1 volunteer position: Honorary chair of the 2019 Virginia Higher Education Fund "Jazz InsideOut" annual benefit fundraiser.
Date and place of birth: Sept. 10 in Lynchburg.
Current residence: Richmond.
Alma maters: Bachelor's degree, University of Richmond; M.D., Virginia Commonwealth University School of Medicine; and radiation oncology residency, Wake Forest School of Medicine.
Family: Wife, Dr. Morgan Randolph, pediatric oncology pharmacist at VCU Children's Pavilion; parents, Dr. David Randolph, radiation oncologist, and Dr. Renita Walden Randolph, dentist; sister, Dr. Jessica Randolph, retina surgeon at VCU; and brother, Douglas Randolph, wealth manager at Baird in Lynchburg.
Virginia Higher Education Fund's mission: To increase higher education for and provide financial support to students who are considered "at risk" or have experienced adverse conditions. VHEF provides scholarships, book awards, dorm supplies and mentoring activities for high-potential youths who are in low-opportunity settings.
Why I support VHEF: I find time to support causes I am passionate about and believe are making positive changes in the community. VHEF is an excellent example of this by making a real impact on youths at a vital time in their life. I benefited greatly by receiving an academic scholarship to college. I know how much of an impact this can make. I feel it's my responsibility to help pay this forward.
Why VHEF is important: VHEF recognizes how economic disparity can limit the potential of excellent students who are at a disadvantage solely because of the economic situation they were born into. VHEF helps level the playing field and provide students a chance for academic success that they otherwise might not have.
Foremost objective of VHEF's "Jazz InsideOut" benefit: To provide financial support for college-bound students who are in low-opportunity settings. We hope to raise $50,000 in 2019. We also partnered with JB Bryan Financial Group this year for our first College Prep Day, which was attended by more than 200 students and parents.
Biggest challenge: Often the biggest challenge for small charities like VHEF is a lack of access to corporate executives and their resources, as well as a lack of access to major philanthropic giving circles. Without access, it is difficult to raise large sums of money for the students who are most in need of financial aid. However, VHEF and Jazz InsideOut are fortunate to have strong corporate stewards, both local and national, that recognize the impact of small charities. That is clearly evident in the 25-plus sponsors for Jazz InsideOut who share our vision to educate our youths and help them achieve academic success.
Why I am a radiation oncologist: Radiation oncology gives me the opportunity to provide local therapies that can cure and restore health for people suffering with a diagnosis of cancer. It uses technology that sounds like it is out of a science-fiction novel, like "photon beams," to treat cancers that otherwise would not be treated. It also allows me a chance to develop personal bonds with my patients, which I find very gratifying. Being given the opportunity to help restore people's health is one of the most impactful things I think you can ever do to help someone, and I am so grateful for that chance.