Richmond food justice corridor gets boost with $250,000 grant
Arthur L. Burton has spent more than three years organizing a food-based approach to uplift the health and economic prospects of poorer sections of Richmond, particularly in and around public housing communities.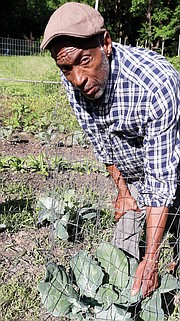 After bringing together volunteers to create four community gardens, he has spent the past 17 months lobbying state officials to back the initiative to make urban agriculture a centerpiece of enabling residents to improve their well-being and become more self-sufficient.
The Kinfolk Community nonprofit he founded and leads is being strengthened with a $250,000 grant from the Virginia Cooperative Extension at Virginia Tech. Mr. Burton hopes this is the first step to increased state and community support.
The initial grant is to enable Kinfolk Community, and the umbrella Community Unity in Action coalition of public and private partners, to continue developing a food justice corridor of vegetable gardens in the East End and near Downtown and to undertake other initiatives in the coming months.
If all goes well, Mr. Burton said the salad greens, cucumbers and other items now growing in the gardens will be sold to a Richmond school kitchen for summer school meals or to a Church Hill store. Residents also may learn to can and sell the fresh items to boost their incomes.
He said the coalition, which also includes the Richmond City Health District and insurance giant Anthem, is planning to host cooking demonstrations to help families create healthier meals from the fresh