Bryson Bruce goes deep to play Thomas Jefferson in 'Hamilton'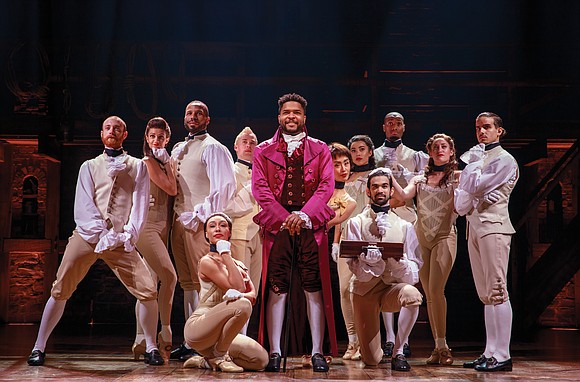 The last thing on a black actor's bucket list is to be cast as a white slave owner and Founding Father in a Broadway hit play.
But that's exactly what Bryson Bruce is doing.
The 27-year-old actor is not only portraying Thomas Jefferson but also the Marquis de Lafayette in the internationally acclaimed musical "Hamilton," which debuts at the Altria Theater on Tuesday, Nov. 19, as part of the Broadway in Richmond series.
"Hamilton" essentially follows the life of U.S. Founding FatherAlexander Hamilton, who is probably best known for having his face on the $10 bill. But history reveals that his political savvy and unique leadership abilities allowed him to become George Washington's chief aide during the Revolutionary War and ultimately the first U.S. secretary of the treasury.
Created by Lin-Manuel Miranda, "Hamilton" is lauded for its contemporary retelling of America's early beginnings, supported by a musical score that blends hip-hop and R&B, among other musical genres. Equally as creative is Mr. Miranda's casting of actors from a variety of cultural backgrounds to portray the historical figures.
"I'll probably need therapy after this job," Mr. Bruce joked during a Free Press interview, referring to the mental acrobatics he engages in to accurately portray the two white statesmen.
Without the aid of computer-generated imagery known as CGI or dramatic prosthetics to assist in his transformations, the University of Missouri theater graduate must rely solely on his acting abilities and his ever-evolving understanding of the characters to bring them to life.
"Lafayette is a stoic soldier, and I play him, of course, with my version of a French accent," Mr. Bruce said with a chuckle. "But Jefferson is a character with unmistakable flair. It's easily seen in his movements, speech and dress."
The Kansas City, Mo., native admits that he had limited knowledge of the nation's third president prior to joining the show's touring cast. Since that time, however, he has learned more about the man who authored the Declaration of Independence, including the fact that he owned more than 600 slaves in his lifetime and fathered at least six children with Sally Hemings, an enslaved woman also owned by Mr. Jefferson.
While this portion of history is not directly addressed in the play, it is something that runs through the mind of the actor who has toured with the show for almost two years in approximately 500 performances.
"But I don't play him as a white man," Mr. Bruce explained. "Like the other actors, I try to remain true to my core. But I admit it is kind of surreal being a black man having to embody a white slave master."
So far, the actor said, he has not received any negative response from the black com- munity for his portrayal of Mr. Jefferson, and he attributes that not so much to his acting, but to the quality of the script.
"This story doesn't seek to glorify anyone. We allow the characters to be seen as flawed. It is more like how you wished history was taught in school," he said.
This is exactly what critics point to as the allure of "Hamilton" — viewing these well-known historic figures as they are reimagined through a multicultural cast without compromising the factual history.
This bold but delicate balance has garnered "Hamilton" consistent sold out engagements and numerous awards, including 11 Tony Awards, a 2016 Grammy Award for Best Musical Theater Album and the 2016 Pulitzer Prize for Drama.
It also is the likely reason Richmond theater enthusiasts have shown similar excitement at the box office.
"We're expecting record-breaking crowds," said Cindy Creasy, Broadway in Richmond spokesperson. "The response to this show has exceeded our expectations."
Out of respect for the numbers of people who want to see the production, the show's producer has announced a digital lottery for tickets beginning with the first performance on Nov. 19 through the end of the run on Dec. 8.
For every performance, 40 tickets will be sold for only $10 each. The digital lottery will open at 11 a.m. on Sunday, Nov. 17, for tickets to the opening performance on Tuesday, Nov. 19. Subsequent digital lotteries will begin two days prior to each performance. Officials are asking that patrons use the official app for Hamilton on the Apple App Store or the Google Play, or register online for the lottery at hamiltonmusical. com/lottery.
The continuing popularity of "Hamilton is just another part of a dream come true for Mr. Bruce, who in the short five years since his college graduation, has landed roles in two Tony Award-winning musicals.
In 2016, he played the role of Mr. Jefferson in the 20th anniversary tour of the hit show "Rent," and has agreed to continue performing for another year with "Hamilton."
But he still has some unfinished business in New York City, where he now lives. The recently married Mr. Bruce said that while he enjoys touring and bringing this important story to people who are unable to make it to New York, it is still on his bucket list to perform on Broadway someday.
"I'd also like to spend some time with my wife, maybe start a family," he added.
He said he's excited for whatever the future holds.
"I'm not picky," he said. "I really just want to continue in the industry. As long as I'm out there telling stories, I'm happy."