HU's Jermaine Marrow scoping out a record-breaking final season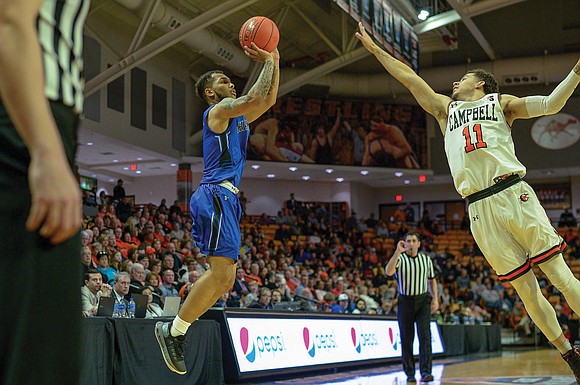 Jermaine Marrow has built a convincing case for greatness in his first three seasons playing basketball at Hampton University.
Now he's primed for his closing statement.
The dazzling senior guard has set his sights on a number of targets for Coach Buck Joyner's Big South Conference Pirates.
The 6-foot, 182-pound Marrow, a graduate of Heritage High School in Newport News, enters his swan song season with a whopping 1,995 points.
As a junior, he ranked eighth in NCAA DivisionIwithanaver- age of 24.4 points per game.
Marrow is the leading career scorer returning in Division I for the upcoming season.
Answering to "Mayno," he is difficult to contain because he can light up the scoreboard in so many ways.
He nailed 86 3-pointers a year ago. But even if his outside isn't falling, he's a threat for 20-plus on any night.
His extraordinary quickness and agility driving to the basket often results in layups and getting fouled.
Marrow was among the most fouled players in the nation last season, and he made the Pirates' opponents pay. The marksman was 215 for 265 at the foul line, 81 percent.
An all-around performer, he also had 168 assists, 55 steals and 140 rebounds.
Should Marrow approach last season's scoring totals, here are some milestones he might challenge or achieve:
• Rick Mahorn's Hampton University career mark of 2,418 points set in 1980.
• Break Mahorn's HU one-season record of 855 points. Marrow scored 854 points as a junior.
• The all-time state of Virginia mark of 2,780 points set by Roanoke's Frankie Allen in 1971.
• The state HBCU mark of 2,758 points set by Virginia Union University's Mike Davis in 1970.
• Big South Player of the Year, succeeding Campbell University's Chris Clemons.
• NCAA Division I scoring title.
Of the players outscoring Marrow a season ago, both No.1 andNo.2 are with NBA organizations.
Last year's top gun, Clemons, is with the Houston Rockets, while runner-up Justin Wright-Foreman of Hofstra University is with the Utah Jazz.
The third leading scorer in 2018-19 was University of Detroit Mercy guard Antoine Davis, who is now a sophomore. He is the son of Mike Davis, the Detroit Mercy coach and former University of Indiana and University of Alabama-Birmingham coach.
Another senior goal for Marrow might be making the NBA. If so, he'd be the first Hampton University Pirate to cash a NBA paycheck since Devin Green played 29 games with the Los Angeles Lakers in 2005.
Mahorn was a second round draft pick in 1980 by the Washington Bullets, now the Washington Wizards. He went on to play for various NBA teams until 1999.
There were worries at HU that Marrow might transfer. He officially entered his name in the NCAA transfer portal this past summer but decided to remain a Pirate.