Transfers hurting Howard University
Fred Jeter | 11/15/2019, 6 a.m.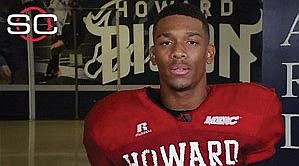 This has been a rough year for Howard University athletics.
For starters, All-MEAC basketball guard R.J. Cole transferred to the University of Connecticut. Cole averaged more than 20 points per game in each of his first two seasons as a Bison.
Then in October, standout quarterback Caylin Newton announced he had placed his name in the NCAA transfer portal and planned to leave the Washington, D.C., school.
Newton, the younger brother of NFL star Cam Newton, has not yet said where he plans to continue his college career.
Recruited to Howard University by former Bison Coach Mike London, Newton was MEAC Rookie of the Year as a freshman and MEAC Offensive Player of the Year as a sophomore.
Newton, a native of the Atlanta area, played the first four games this season for Howard before leaving the team. An athlete can play up to four games without it counting as a season of eligibility.
Newton wasn't alone. Also leaving the squad after four games were Iggy Reynoso, Khalid Dorsey and John Smith VI.
The attrition has taken a toll on the Bison. Howard is 1-9 after its game last Saturday at South Carolina State University. The score in Orangeburg, S.C.: 62-21.