VSU's Lual Rahama plays his way into the spotlight
Fred Jeter | 11/15/2019, 6 a.m.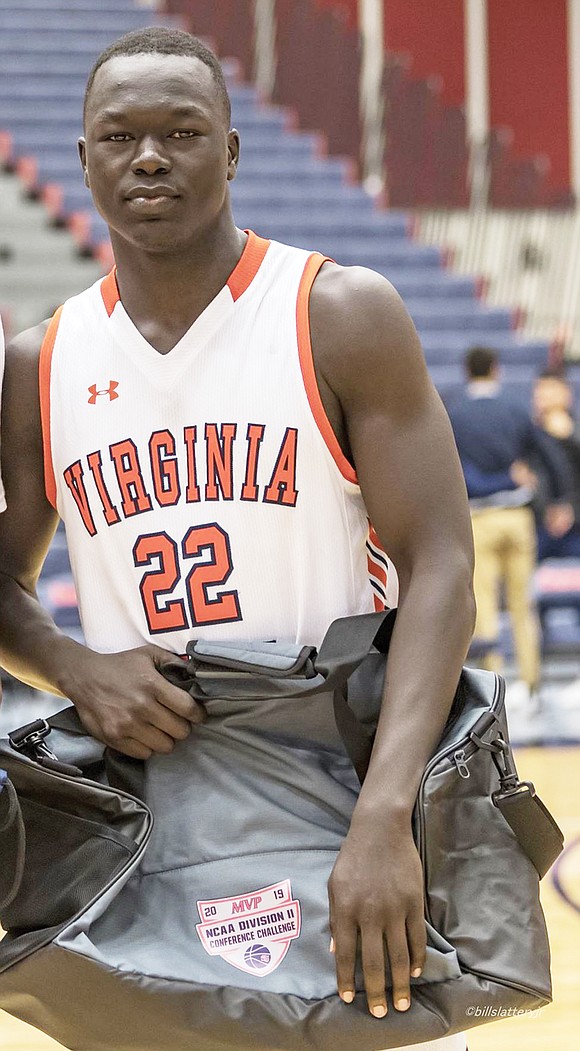 Lual Rahama, answering to "Daniel," isn't a new face at Virginia State University. But the Sudan native is new to the spotlight.
In his third basketball season under Coach Lonnie Blow, the long-limbed, 6-foot-5 forward has picked up his game.
Rahama was named tournament MVP after leading VSU to a pair of victories Nov. 8 and 9 in the CIAA versus Pennsylvania State Athletic Conference challenge at Shippensburg, Penn.
In his first season as a starter, Ra- hama had 15 points and 13 rebounds in VSU's 63-49 win over East Stroudsburg University. He added four points and 13 rebounds in the Trojans' 58-54 win over host Shippensburg University.
He played 24 minutes against East Stroudsburg and 33 minutes against Ship- pensburg.
That's a far cry from his first two seasons, when he averaged 7.5 minutes as a freshman and 9.5 minutes as a sophomore.
Rahama, an excellent student, was born and grew up in Khartoum, Sudan's capital and largest city. He moved to Newport News as a teenager and starred at Warwick High School, earning all Penn-South Conference honors.
Rahama also played for the high-profile Boo Williams AAU travel program.
Basketball is a popular sport in the Sudan and South Sudan. Manute Bol, Thon Maker and Lual Deng are among the Sudanese to reach the NBA.
Coach Blow welcomes Rahama's improved production. The top five scorers on last year's CIAA championship team were seniors.
VSU travels to North Carolina on Wednesday, Nov. 13, to play Wingate University at 7 p.m. The Trojans' first home game is Saturday, Nov. 23, against CIAA opponent Claflin University.
Virginia Union University's trek to
Pennsylvania for the challenge between the CIAA and the PSAC wasn't nearly as enjoyable.
The Panthers lost 77-62 to Shippensburg and 84-64 to East Stroudsburg.
Senior guard Terrell Leach was outstand- ing in both defeats. The 6-foot native of High Point, N.C., had 23 points against Shippensburg and 31 against East Stroudsburg.
VUU will play its home opener Wednes- day, Nov. 13, at Barco-Stevens Hall against Catawba College.
Catawba is the alma mater of VUU's Hall of Fame basketball Coach Dave Robbins. At Catawba, Robbins starred in basketball and football and had a serious tryout with the NFL Denver Broncos.
Robbins, who frequently attends Panthers games, coached VUU basketball from 1978 to 2008, winning 713 games and three NCAA championships.