NBA players netting big bucks
Fred Jeter | 11/22/2019, 6 a.m.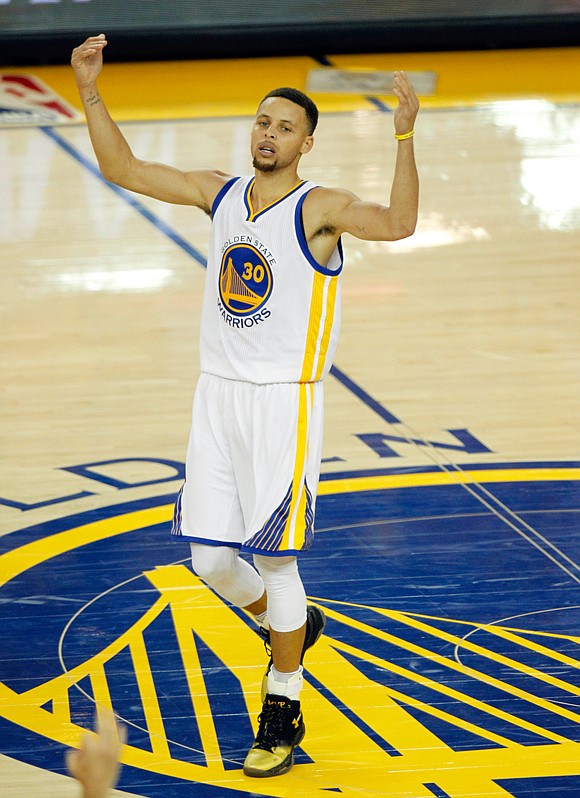 There are buckets of money to be made playing professional basketball, if you're very, very good at it.
Steph Curry, while currently rehabilitating from a broken hand, is the prime example.
Lightly recruited in high school, the veteran guard with the Golden State Warriors is the world's top paid player with a 2019-20 salary of $40,231,758 — an NBA record.
Not too far behind are the Houston Rockets' James Harden ($38,199,000), the Brooklyn Nets' Kevin Durant ($38,199,000), the Washington Wiz- ards' John Wall ($38,199,000) and the Los Angeles Lakers' LeBron James ($37,436,858).
Curry signed a five-year deal with the Warriors for $201 million in 2017.
Even the lowest paid NBA athletes are rich by "normal person" standards. The minimum rookie deal is for $898,310.
Fifth-year NBA veterans have a $1,882,867 minimum.
The minimum salary for a full team, usually 15 players, is $98,226,000, with a soft salary cap of $109.14 million, with exceptions.
Virginia can make a partial claim to Curry. Born in Charlotte, N.C., he is the son of former Fort Defiance High School and Virginia Tech star Del Curry, and brother of former Liberty University and Duke guard Seth Curry.
Former Virginia Commonwealth University Coach Jeff Capel III was among the few offering Curry a full scholarship coming out of Charlotte Christian School.He eventually signed with Davidson College.
Local athletes are among those benefiting from the NBA's lucrative salary scale.
Former Hanover High School/Bene- dictine College Preparatory standout Ed Davis is making $4,767,000 this season with the Utah Jazz. Davis currently is sidelined with a leg injury.
Former VCU players Troy Daniels and Treveon Graham should be able to pay their bills. Daniels' salary with the L.A. Lakers is $1,620,564. Graham is making $1,645,357 with the Minnesota Timberwolves.
Three rookies out of NCAA champion University of Virginia should have fat wallets. De'Andre Hunter's NBA salary is $2,068,360 with the Atlanta Hawks.
Ty Jerome's salary with the Phoenix Suns is $2,193,480.
Kyle Guy signed a two-way contract with the Sacramento Kings-Stockton Kings NBA G League for $79,568, although that is expected to be prorated to the NBA minimum $898,310.
Former Petersburg High School star Frank Mason is making $1,378,242 with the Milwaukee Bucks.
Salaries have been on an uptick for many years. During the 1999-2000 season, L.A. Laker Shaquille O'Neal had the top salary of $27,142,000.
The Boston Celtics' Larry Bird became the first player with at least a $5 million salary in 1991-92, earning $7,070,000.
Dunkin' for $
Here are the highest salaried players on each NBA team for 2019-20:
Boston Celtics: Kemba Walker, $32.7 million
Brooklyn Nets: Kevin Durant, $38.1 million
New York Knicks: Julius randle, $18 million
Philadelphia 76ers: Al Horford, $28 million
Toronto Raptors: Kyle Lowry, $34.9 million
Golden State Warriors: Steph Curry, $40.2 million
Los Angeles Clippers: Kawhi Leonard, $32.7 million
Los Angeles Lakers: LeBron James, $37.4 million
Phoenix Suns: Devin Booker, $27.2 million
Sacramento Kings: Harrison Barnes, $24.1 million
Chicago Bulls: Otto Porter, $27.2 million
Cleveland Cavaliers: Kevin Love, $28.9 million
Detroit Pistons: Blake Griffin, $34.4 million
Indiana Pacers: victor Oladipo, $21 million
Milwaukee Bucks: Giannis Antetokounmpo, $25.8 million
Dallas Mavericks: Kristaps Porzingis, $27.2 million
Houston Rockets: James Harden, $38.1 million
New Orleans Pelicans: Jrue Holiday, $26.2 million
San Antonio Spurs: DeMar Derozan, $27.7 million
Memphis Grizzlies: Jonas valanciunas, $16 million
Atlanta Hawks: chandler Parsons, $25.1 million
Charlotte Hornets: Nicolas Batum, $25.5 million
Miami Heat: Jimmy Butler, $32.7 million
Orlando Magic: Nikola vucevic, $28 million
Washington Wizards: John Wall, $38.1 million
Denver Nuggets: Paul Millsap, $30.3 million
Minnesota Timberwolves: Karl-Anthony Towns, $27.2 million
Oklahoma City Thunder: Danilo Gallinari, $22.6 million
Portland Trail Blazers: Damian Lillard, $29.8 million
Utah Jazz: Mike Conley, $32.5 million
Source: NBA.com