Mayor to initiate gun reporting and distracted driving legislation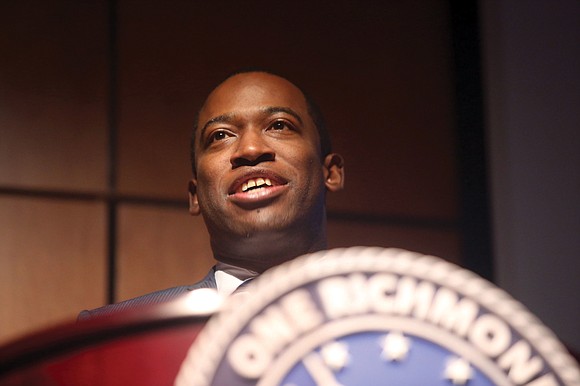 Mayor Levar M. Stoney wants to fine people who fail to report a lost or stolen firearm within 24 hours and also crack down on drivers who are paying too much attention to their mobile phones.
He announced that he will introduce ordinances on Monday for Richmond City Council to consider on both topics, with the language going beyond current state laws.
On the gun law, the state legislature has regularly killed bills seeking to impose a reporting requirement on gun owners, many of whom do report lost or stolen guns.
Speaking at a press conference Wednesday at City Hall, Mayor Stoney said he is "tired of waiting for the General Assembly" to pass such a law that would require individuals to notify the police department when their guns are missing or face a fine still to be determined.
City Attorney Allen L. Jackson has advised that the city has authority under its inherent police powers to impose the reporting requirement.
Both Mayor Stoney and Police Chief Will Smith touted the requirement as a tool to help tackle gun crime and reduce trafficking in such weapons.
A 2018 study by the Rand Corp., however, found no evidence that such reporting laws have any impact on crime or illegal gun sales.
Chief Smith noted that 354 guns have been reported missing or stolen this year by owners seeking recovery, but others that were not reported missing are showing up at crime scenes.
The new law would become effective immediately if approved by the council, the mayor's staff said.
On distracted driving, Mayor Stoney's proposal calls for making the action a secondary offense in Richmond. Drivers stopped for swerving or speeding or running a stop sign could receive a secondary ticket if an officer has evidence that it was the result of using a mobile phone.
Mayor Stoney is proposing a $125 fine for a first offense and $250 for a second offense, or the same as the state imposes for texting while driving.
State law currently bars teen drivers from handling a phone at all and bars adult drivers from texting or reading texts or from handling a phone in a work zone. However, adults are not barred from making and receiving calls or doing other things on a phone that do not involve texting.
If approved by the council, "distracted driving will cost you," the mayor stated, though the proposed law would not become effective until six months after passage.
Police data show 73 accidents in Richmond in 2018 were caused by distracted driving.
Mayor Stoney said his proposal would build on efforts to reduce fatal accidents in the city. He noted that since equipping 50 school buses with cameras earlier this year, more than 3,000 citations have been issued to drivers illegally passing while the bus was stopped for student pickups.