Women's healing and deliverance conference Oct. 25 and 26
10/18/2019, 6 a.m.
Dr. Khaalida Forbes, pastor of Truth City in Washington, and Bishop S. Teri Smith of Love Ministries Fellowship Church in Houston will be among the speakers at Fashioned for the Kingdom Healing and Deliverance Women's Conference, a two-day event in Richmond to help women embrace their vision and maximize their potential.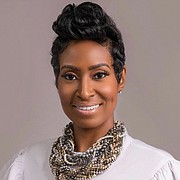 The conference will be held 3 to10p.m. Friday, Oct. 25, and 8 a.m. to 10 p.m. Saturday, Oct. 26, at the Westin Richmond, 6631 W. Broad St.
The conference is hosted by JTD Ministries and Johnna Tyler Davis, author, Christian life coach and pastor of Life Changing Ministries International in Goochland. Biblical teachings, health and wellness presentations, praise and worship will be featured.
The conference costs $129, with registration at www.jtdministries.org.
Information: Contact Gertie Williams, conference event manager, (301) 379-2785