CIAA hopes fading for VUU and VSU
Fred Jeter | 10/31/2019, 6 p.m.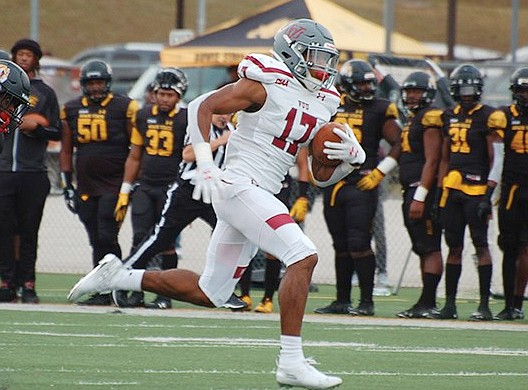 Salem Stadium, site of the CIAA Championship game on Nov. 16 in Virginia's Blue Ridge, is looking much farther away now for Virginia Union and Virginia State universities. The window of opportunity has just about closed for both CIAA members following last Saturday's gridiron results.
After getting mauled at Bowie State University 52-17, VUU's chances of capturing a CIAA Northern Division title and heading to Salem all but vanished.
Meanwhile, despite a 33-5 victory at hapless Lincoln Uni- versity in Pennsylvania, the VSU Trojans also all but fell out of the chase for the crown.
VSU was relying on a Panthers victory against Bowie State to possibly force a three-way tie at the top for the division title.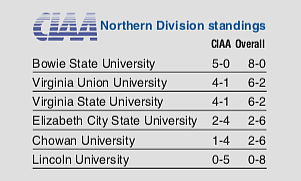 For either VUU or VSU to surpass the Bowie State Bulldogs, the Bulldogs — now with a head-to-head tie-breakers advantage — would have to close with highly unlikely losses against Lincoln and Chowan University.
Still, there is much on line for VUU Coach Alvin Parker's Panthers and VSU Coach Reggie Barlow's Trojans.
Both squads have the chance to finish strong and feel good about their seasons.
VUU will entertain Elizabeth City State University this Saturday, Nov. 2, at Hovey Field, while VSU travels to Chowan University. Then on Saturday, Nov. 9, VUU will travel to VSU and Rogers Stadium in Ettrick for what amounts to the "8-2 Bowl."
Each squad could finish a flashy 8-2 with a pair of closing victories. VUU's five-game winning streak was snapped at Bowie State largely because the Panthers were unable to contain the Bulldogs' quarterback, Ja'rome Johnson.
Johnson, a D.C. native, passed for 395 yards and five touchdowns. Meanwhile, Panthers quarterback Khalid Morris was picked off three times.
The Panthers' Tabyus Taylor ran for 79 yards and Charles Hall caught passes for 99 yards and a touchdown. A sophomore from New Jersey, Hall has enjoyed a dazzling season, certainly worthy of CIAA and perhaps national honors.
Hall now has 28 catches, good for 754 yards and 10 touchdowns. His mostly long-distance receptions have averaged 27 yards.
Both of VUU's losses have come to opponents ranked in the NCAA Division II — No. 7 ranked Lenoir-Rhyne University and No. 15 Bowie State, based on the most recent poll.
Also VUU owns a noteworthy victory over FCS Hampton University.
The Panthers have a chance to put back-to-back 8-2 seasons together with two more wins.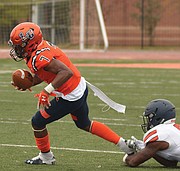 VSU has won six of its last seven games, with the lone loss to Bowie State. The Trojans' other setback was in its opener against FCS Norfolk State University.
Resting starter Cordelral Cook, the Trojans played at Lincoln with quarterback Jordan Davis, a freshman from Hylton High School in Woodbridge.
Zion Johnson, also from Hylton High, led a vicious VSU defense that sacked Lincoln's quarterback on 15 occasions. Johnson had six tackles.
A very slight chance remains that VUU or VSU could be named to the six-team NCAA Super Region 2 playoffs starting Nov. 23. But Panthers' and Trojans' fans shouldn't get their hopes up. VUU was ranked ninth in Region 2 and VSU was not listed at all in the most recent poll.
With the season winding down, it is evident there is a three-tier pecking order in the CIAA Northern Division. Lincoln, Chowan and Elizabeth City State occupy the lower tier; VUU and VSU represent the contending tier; and Bowie State stands alone at the top.