State officials stay the course on the coronavirus
George Copeland Jr. | 4/23/2020, 6 p.m.
Keep on keeping on.
That's the continuing message from officials as Virginia dramatically increased its coronavirus testing capability, data collection and access to health information.
Gov. Ralph S. Northam last week extended state restrictions on non-essential businesses and public gatherings from April 23 to May 8, while the stay-at-home order is still set to expire on June 10.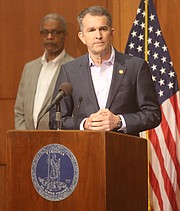 Despite protests Wednesday and last week by small numbers of people calling for businesses to reopen, the governor has given no indication of when Virginia will begin easing restrictions. New guidelines from the Centers for Disease and Control and Prevention recommend 14 consecutive days of declining cases before starting to gradually phase out restrictions.
In the commonwealth, there is potential for the number of COVID-19 cases to grow as testing capacity increases with the growth of in-house testing at facilities across the state, including Virginia Commonwealth University and the University of Virginia, and more private labs begin running tests.
Currently, the state lab is able to perform 300 tests a day, and will be able to run 400 tests daily by next week thanks to new equipment, officials said.
As of Wednesday, the number of positive cases in the state had risen to 9,630, resulting in 1,581 hospitalizations and 324 deaths, according to the Virginia Department of Health.
African-Americans still are disproportionately impacted by the pandemic, comprising 28 percent of the those testing positive for COVID-19 and 34 percent of the deaths, Dr. M. Norman Oliver, the state health commissioner, reported Monday.
The update comes at the state health department has expanded the breadth of information on its COVID-19 website, offering more detailed demographic and geographic information about the cases in Virginia.
"We understand the fear and anxiety that many people have around this pandemic," Dr. Oliver said. "Giving high-quality accurate data in a timely fashion will help address this additional public health need that we have in facing this pandemic."
Data from the COVID-19 model developed by the University of Virginia show that measures adopted by the state, such as closures and social distancing, have help slow the spread of the virus, lessening the stress placed on Virginia hospitals. The model also shows a potential peak in positive cases between late April and early May.
However, the model also projects a potential resurgence in cases in mid-July or August if the restrictions and stay-at-home order are lifted too early.
In citing this prediction, Gov. Northam stressed the necessity of his recommendation to residents and officials to stay the course in addressing the coronavirus.
"We need to be clear: Things are not going back exactly like they were before," Gov. Northam said. "Together, we will figure out how to build a new normal."