At 16, Vijay 'J.J.' Powell claims first of many golf titles to come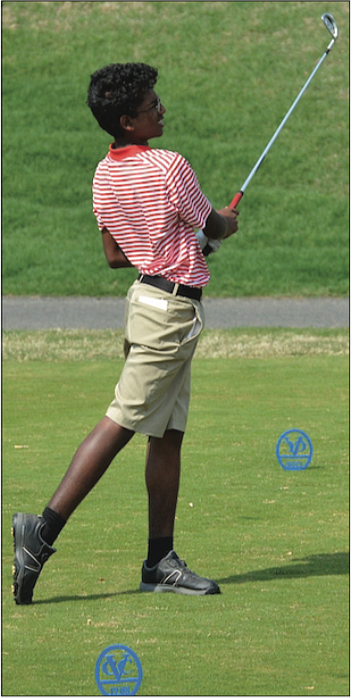 Vijay "J.J." Powell got his golfing start watching Tiger Woods' PGA tour videos at home.
Quickly, he was hooked. It didn't take the impressionable youngster long to start playing golf himself—albeit with plastic clubs.
"I began playing when I was around 4 and entered my first junior tournament at 6," J.J. said.
Nowadays, the Chesterfield County resident and sophomore at St. Christopher's School holds the title of the area's top junior golfer.
At just 16, he captured the 72nd Richmond Golf Association Boys' Junior Amateur Championship title, competing against boys up to age 18.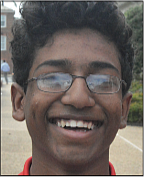 "It's probably my biggest achievement in a long time," he said.
And what could top that?
"When I was 12, I shot a 68 at Salisbury" Country Club, he said.
J.J. clinched the RGA in dramatic fashion, birdying the final hole on a 4-foot putt to defeat Charlie Kennedy by one stroke.
At 5-feet-8, 130 pounds J.J. shot a 70-74 over the two-day, 36-hole event held July 22 and 23 at Jefferson Lakeside Country Club.
Don't let J.J.'s diminutive size fool you. There's plenty of power behind his swing.
"J.J. hits it a long way, especially considering his size," said St. Christopher's Coach Ren O'Ferrall. "And he's got a great touch around the greens."
Unlike many young golfers, he doesn't take excessive time lining up and analyzing each shot.
"J.J. just steps up and hits it," Coach O'Ferrall said.
The son of Minni and Jimmy Powell is advanced for his years. His mother is a native of India and his father is African-American. J.J. attended Bailey Bridge Middle School in Chesterfield before entering St. Christopher's as a freshman.
He was good enough to make the varsity golf team as a ninth-grader at a private school renowned for its golf prowess.
"What I like about J.J. is that he seems to get better every time out," Coach O'Ferrall noted.
J.J.'s given first name, Vijay, has nothing to do with pro golf star Vijay Singh, a native of the South Pacific nation of Fiji. Singh has 34 PGA titles, the 14th most PGA Tour wins on golf's all-time list.
J.J.'s nickname stems from his twin sister Jaya's inability to pronounce Vijay as a toddler.
"It kept coming out J.J., so we went with it," J.J. recalled.
J.J. is more than just a golfer. He also played on the St. Christopher's junior varsity basketball team last year.
"He's got a nice little shot," noted Coach O'Ferrall, who also serves as the school's athletic director.
"I'm probably strongest striking my irons and wedges. And I've improved my putting a lot," J.J. said of his golf game.
Jaya Powell plays on the basketball team at St. Catherine's, the "sister school to St. Christopher's located in Richmond's West End.
The twins may have inherited a passion for basketball from their father, who played at Emory & Henry College from 1985 to 1987.
That said, J.J. puts his golf clubs far ahead of his jump shot in regard to his athletic potential.
"I'm not from a golfing family," he said. "I just took it up somehow, some way."
His passion for whacking a dimpled ball took him from First Tee-Chesterfield, to Magnolia Green Golf Club in Moseley, and more recently to Independence Golf Club in Midlothian.
J.J. is on a short list of players of color to win the RGA. Others were Jason Park in 2011 and Thanompol "George" Soongnarata in 2003-04.
James River High School's Nick Austin was Metro Player of the Year 2006, 2007 and 2008, but never won an RGA title.
D'yan Robinson, the 2019 RGA Girls' Junior champion, is the only African-American to win the event to this point.
In winning as a 16-year-old, J.J. has a chance to become the first three-time RGA Junior champion since Lanny Wadkins in 1965, 1966 and 1967.
Young J.J. already has one prestigious title in his bag. Now he's continuing to hunt—like a tiger—for more.