City's Confederate statues now up for disposal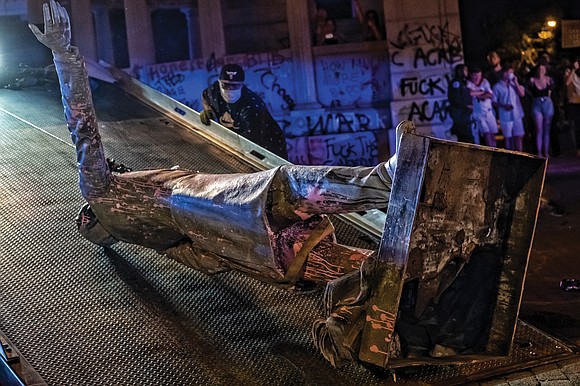 Let the disposal begin.
The Richmond City Council on Monday set in motion a plan to finally rid Richmond of most of the city-owned statues and icons of Confederate traitors, although surprisingly, not all.
As expected, the council voted 9-0 to approve the permanent removal of the Confederate statues and to start the process to receive bids for 10 of the 12 items under city control. That includes the four former Monument Avenue statues of Jefferson Davis, Thomas J. "Stonewall" Jackson, Matthew Fontaine Maury and J.E.B. Stuart.
After the vote, Lawrence Anderson, City Council's chief of staff, said that he would work with council to create a process that would allow governments, museums or private organizations to bid for the statues.
Mr. Anderson said he and other staff would vet the applications and offer recommendations for sale to the council. He said the first recommendations could come as early as Sept. 8.
City Council has to wait 30 days after the vote to begin a sale, but is under no deadline to actually undertake that action. The vote was based on a new state law that allows localities to remove war memorials. However, the city's process might have to be redone to address two Confederate statues that were left off the original list for removal – those honoring Richmond railroad tycoon and Confederate Gen. Williams C. Wickham and a Confederate unit known as the Richmond Howitzers.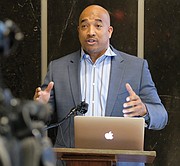 City Council also did not consider how to deal with the statue of Christopher Columbus that was torn down in early June by protesters from its pedestal in Byrd Park. Disposal of the Columbus statue would require a separate process as it is not a war memorial.
Still, City Council's action represents a clear victory for 9th District Councilman Michael J. Jones, who began advocating for the removal of the Confederate statues three years ago when only one other council member supported the idea.
This time, the eight other council members signed on as co-sponsors of the legislation Dr. Jones sponsored. Mayor Levar M.
Stoney, who had announced in late June that he also would co-patron the ordinance with Dr. Jones, is not listed as a sponsor. In July, Mayor Stoney used emergency authority granted to him on June 8 by City Council to remove all the city-owned Confederate statues except that of Confederate Gen. A.P. Hill at Laburnum Avenue and Hermitage Road in North Side, where Gen. Hill's remains are buried.
Dr. Jones did not speak during the meeting on a triumph he sees as benefiting the city. Most of the other council members also kept silent on the historic action to remove the Confederate images that have long dominated the city's landscape and which are to be followed in the months to come with elimination of Confederate names from a major bridge and a stretch of U.S. 1, a major north-south road.
Council Vice President Chris A. Hilbert did take a moment to mark the occasion.
"These statues were placed in the public square as an affront to individuals in this city who were reduced to 'Jim Crow' status. They sent a definite message that white people were in charge," Mr. Hilbert said.