Trump uses Black people to defend him at RNC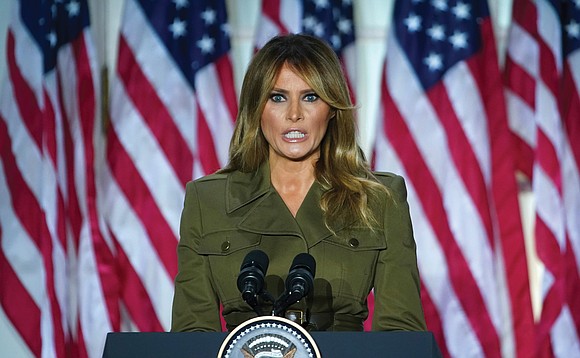 President Trump has aggressively asserted control over the Republican National Convention, a four-day event that started Monday and featured African-Americans defending the president's history of racist rhetoric and actions.
Former NFL star Herschel Walker, speaking on the opening night, defended President Trump, whom he called a "personal friend," and said he isn't a racist.
"It hurt my soul to hear the terrible names that people call Donald," Mr. Walker said in a televised speech. "I take that as a personal insult, that people would think I've had a 37-year friendship with a racist."
He continued, "Growing up in the Deep South, I've seen racism up close. I know what it is, and it isn't Donald Trump."
He went on to say that President Trump cares about social justice and the Black community.
Mr. Walker, a Heisman Trophy winner, started his pro career as a running back with the New Jersey Generals, a team that was part of the now-defunct United States Football League.
President Trump bought the team in 1984 after Mr. Walker completed his first season. The USFL folded in 1986.
After leaving the Generals, Mr. Walker, now 58, enjoyed an 11-year career in the NFL, beginning with the Dallas Cowboys. He was inducted into the College Football Hall of Fame in 1999.
The Republicans also used Georgia state Rep. Vernon Jones, a Black Democrat and lawyer from suburban Atlanta, to showcase that some Democrats plan to cross party lines and vote for President Trump.
It was a play from the Democrats' convention playbook in which several prominent Republicans who plan to vote for Joe Biden were highlighted.
Rep. Jones praised President Trump, saying he had delivered on promises. And he tore into Democrats, saying they had taken advantage of Black voters. Rep. Jones said when he first announced his support for President Trump this spring, "all hell broke loose."
But as Rep. Jones spoke, other Georgia Democrats quickly blasted his endorsement of President Trump. Nikema Williams, chair of the Democratic Party of Georgia and a candidate for the U.S. House, issued a statement calling Rep. Jones an "embarrassment" and said he "does not stand for our values."
U.S. Sen. Tim Scott of South Carolina, the highest-ranking Black Republican in Congress, painted Democrats as wanting to radically transform America and offered his personal biography as a counterargument to their agenda in his Monday night capstone address.
"While this election is between Donald Trump and Joe Biden, it is not solely about Donald Trump and Joe Biden," Sen. Scott said. "It's about the promise of America. It's about you and me — our challenges and heartbreaks, hopes and dreams."
President Trump has put an emphasis on winning more support from Black voters after getting just 6 percent of the Black vote in 2016, according to a Pew Research Center analysis.
The opening of the Republican National Convention on Monday showed proof that Republicans are focused squarely on their convention's star, President Trump, and securing his re-election in November.
He has appeared every night of the convention so far, dominating the proceeding. The party, which since 1856 has produced a platform articulating its priorities for the next presidential term, scrapped that and offered total support for the president's "America-first" agenda.
First Lady Melania Trump, who spoke Tuesday night in front of an unmasked group of about 50 in the newly redecorated White House Rose Garden, praised her husband's leadership and the achievements of his administration.
However, she has been one of the only speakers to acknowledge the pain and loss of 178,000 lives during the coronavirus pandemic. She also offered her gratitude to first responders, nurses and doctors who have cared for Americans sickened by the virus, and attested to her husband's concern for all those afflicted by it.
Vice President Mike Pence was to deliver the headline speech on Wednesday night after Free Press deadline. Other speakers were to include senior White House adviser Kellyanne Conway, who on Sunday said she would leave that role at the end of the month, and former NFL safety Jack Brewer, who was charged with insider trading by the Securities and Exchange Commission earlier in August.