Dems pull out big guns to energize virtual convention for Biden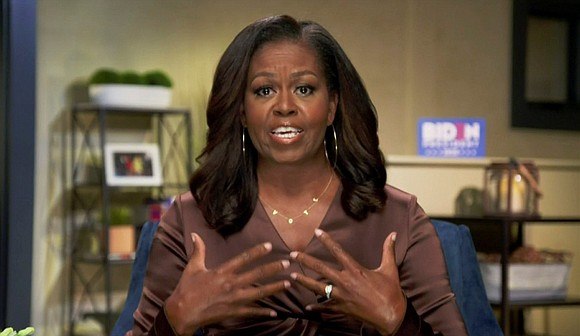 Democrats launched the third day of their virtual national convention on Wednesday, with headliners broadening the focus from a multipart rebuke of President Trump to an energizing message of change in boosting former Vice President Joe Biden's presidential bid.
Delegates and those tuning into the convention on television were expected to hear from Sen. Kamala Harris in her first primetime appearance as Mr. Biden's history-making vice presidential running mate.
Also expected to speak Wednesday night after Free Press deadline were former President Obama, a transformational figure for the Democratic Party who picked Mr. Biden as his running mate a dozen years ago, and Hillary Clinton, who broke barriers as the first female presidential nominee of any major party.
While former First Lady Michelle Obama set the tone by opening the convention on Monday night with a grave censure of President Trump, her husband was expected to focus more on the Democratic presidential nominee and a revival of the message of hope and change that ushered in his own historic terms in office as the nation's first Black president.
Mrs. Obama delivered a talk firmly outlining the dire stakes for the election ahead, declaring President Trump "in over his head" and the "wrong president for our country." She warned of possible voter suppression and told Americans they must vote for Mr. Biden "in numbers that cannot be ignored" if they want to preserve the "most basic requirements for a functioning society."
Whether President Obama can pass on his personal popularity to Mr. Biden won't be immediately clear without a live audience. But he was expected to describe Mr. Biden as a trusted counselor and co-pilot who helped him pass his signature health care law and navigate a complex world.
Sen. Harris, the first Black woman selected for a major party ticket, gives Democrats a barrier-breaking team that echoes the landmark of Mr. Obama's election.
The California senator, who often invokes other groundbreakers such as Shirley Chisholm, the first Black woman elected to Congress, had the chance to highlight her own historic role. She also was expected to use the moment to argue for Mr. Biden at the top of the ticket and set aside a notable moment from her first debate appearance as a presidential candidate last year, when she criticized his record on race over his previous opposition to federally mandated busing.
Democrats formally nominated Mr. Biden as their presidential candidate Tuesday night, with party elders, a new generation of politicians and voters in every state joining together in an extraordinary, pandemic-cramped virtual convention to send him into the general election campaign to oust President Trump.
For someone who has spent more than three decades eyeing the presidency, the moment was the realization of a long-sought goal. But it played out in a way that the 77-year-old Mr. Biden couldn't have imagined just months ago as the coronavirus pandemic prompted profound change across the country and in his presidential campaign.
Instead of a Milwaukee convention hall as initially planned, the roll call of convention delegates played out in a combination of live and recorded video feeds from American landmarks packed with meaning: Alabama's Edmund Pettus Bridge, the headwaters of the Mississippi River, a Puerto Rican community still recovering from a hurricane and Washington, D.C.'s Black Lives Matter Plaza.
Mr. Biden celebrated his new status as the Democratic nominee alongside his wife, Dr. Jill Biden, and grandchildren in a Delaware school library.
Dr. Biden, his wife of more than 40 years, later spoke to the convention of her husband in deeply personal terms, reintroducing the lifelong politician as a man of deep empathy, faith and resilience.
Thursday night's events and speeches will focus on Mr. Biden, culminating in the former vice president accepting the presidential nomination. He will deliver his acceptance speech from a mostly empty convention all near his Delaware home.
Other Thursday night speakers will include several former contenders for the Democratic presidential nod, including U.S. Sen. Cory Booker of New Jersey, former South Bend, Ind., Mayor Pete Buttigieg and entrepreneur Andrew Yang. Other speakers include U.S. Sen. Tammy Duckworth of Illinois and Atlanta Mayor Keisha Lance Bottoms, both of whom were on the list for consideration as vice president.
On Tuesday night, the convention a mix of Democrats and Republicans making the case that Mr. Biden has the experience and energy to repair the chaos President Trump has created at home and abroad.
Former President Clinton, former Secretary of State John Kerry and former Secretary of State Colin Powell, a Republican, were among the heavy-hitters on a convention schedule that emphasized a simple theme: Leadership matters.
Former President Jimmy Carter, now 95, also made a brief appearance.
Some of them delivered attacks against President Trump that were unusually personal, all in an effort to establish Mr. Biden as the competent, moral counter to the president.
"Donald Trump inherited a growing economy and a more peaceful world," Mr. Kerry said. "And like everything else he inherited, he bankrupted it. When this president goes oversees, it isn't a goodwill mission. It's a blooper reel."
Former President Clinton said under President Trump, the Oval Office is now a place of chaos, not a command center.
"If you want a president who defines the job as spending hours a day watching TV and zapping people on social media, he's your man," President Clinton said.
Mr. Powell, who served as secretary of state under GOP President George W. Bush and appeared at multiple Republican conventions in years past, endorsed the Democratic candidate. He joined Cindy McCain, the wife of the late U.S. Sen. John McCain of Arizona, who stopped short of a formal endorsement but spoke in a video of the mutual respect and friendship her husband and Mr. Biden shared.
While delegates aren't physically present in Milwaukee, party business went on as usual remotely during the daytime, with caucus and council meetings scheduled throughout. Democrats will finalize the party's platform and update party rules.