He breaks stereotypes at Arizona State
Fred Jeter | 12/31/2020, 6 p.m.
Jackson He is big, fast and strong, about what you'd expect of a football player at Arizona State University.
But what makes him really special is his nationality. He is Chinese.
On Dec. 11, He made history by becoming the first Chinese-born athlete to score a touchdown in a FBS game.
Wearing No. 32, He scored on a 1-yard run in the Aztecs' 70-7 victory over archrival Arizona in Tempe. To do so, he had to break a tackle and plow his muscular 220 pounds over the goal line.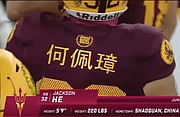 "I want to prove that Chinese can play good football," the redshirt junior told the media. "I have a chip on my shoulder."
He's birth name is He Peizhang. His "American name" and roster name is Jackson He. He said he chose Jackson for no other reason than he is a big Michael Jackson fan.
From Shaoguan, China, he came to the San Diego area at age 17 with a group of foreign exchange students. He played one season at Lutheran High School in San Diego before enrolling at Arizona State and making the squad as a walk-on.
While in high school, he had to learn to play football while also learning the English language.