Tiger Woods and son don't quite break from the pack
Fred Jeter | 12/31/2020, 6 p.m.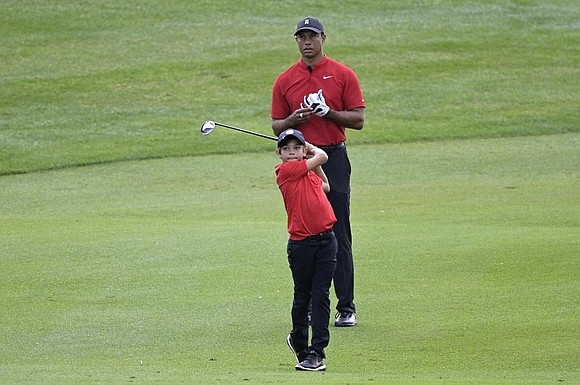 Team Woods attracted most of the cameras but fell short of winning the title at the PNC Championships in Orlando.
Tiger Woods and his 11-year-old son, Charlie, finished seventh in the 20-team field in the two-round event at the Ritz-Carlton Golf Club held Dec. 17 through 20.
Team Thomas — PGA regular Justin Thomas and his father, Mike — took first with an overall 25-under score.
Team Woods finished 20 under in the "two-man scramble" format. Charlie Woods was the youngest partner of a pro in the family event.
Charlie Woods scored an eagle all on his own and flashed some of his famous father's tendencies, much to the crowd's delight. Charlie twirled his driver following a nice tee-shot and provided a few of the signature Woods fist pumps following made putts.
Also, on the final day, Charlie and Tiger dressed alike with red shirts, black slacks and TW golf caps.
"Memories we'll have for our entire lives," Tiger told the media. "He's not going to appreciate this at 11 years old. I didn't when I was with my dad. As the years go by, you start appreciating it more."
The gallery included Charlie's mother, Tiger's ex-wife Elin Nordegren, who was making her first appearance at a Tiger Woods golf event in 11 years.
Walking the course with Elin were Tiger's daughter, Sam Woods, 13, and his current girlfriend, Erica Herman.