'Virginians You Need to Know' lectures Feb. 8, March 21 at Main Library
2/7/2020, 6 a.m.
Researcher, author and lecturer Elvatrice Belsches will speak about "Virginians You Need to Know" at a two-part lecture series at the Main Branch of the Richmond Public Library, 101 E. Franklin St.
The first lecture, at 3:30 p.m. Saturday, Feb. 8, will focus on the late John Mitchell Jr., a noted newspaperman, businessman, politician and activist.
Born enslaved in 1863, Mr. Mitchell was an outspoken voice for African-Americans as editor of the Richmond Planet newspaper, leading to a boycott of Richmond's segregated streetcars in 1904 and anti-lynching and racial justice efforts.
He helped secure funds for the construction of African-American schools and helped persuade city officials to provide money to construct an armory in Jackson Ward for the First Battalion Virginia Volunteers, an African-American militia regiment. The armory is now the home of the Black History Museum & Cultural Center of Virginia on Leigh Street.
He also ran unsuccessfully for governor on the Lily Black ticket in 1921.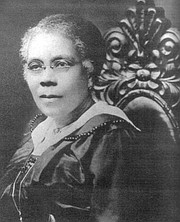 The second lecture, scheduled for 3:30 p.m. Saturday, March 21, will highlight Rosa L. Dixon Bowser, born in 1855, who was the first African-American teacher hired by the city. She called for education reforms and higher salaries for teachers as president of the Virginia State Teachers Association, which she helped establish.
Richmond's first library branch for African-Americans, at 00 Clay St., was named in her honor and later was the first home of the Black History Museum.
The lectures are free and open to the public in the Main Library's auditorium.
Details: rvalibrary.org or (804) 646-7223.