New children's library to open Feb. 20 at Whitcomb Court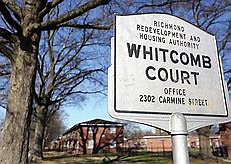 Whitcomb Court is getting a new children's library from the Fountain of Youth Foundation.
The new library, to open at 5 p.m. Thursday, Feb. 20, in the neighborhood's community center at 2302 Carmine St., is the 16th that the Richmond-based foundation has installed since 2017, mostly in public housing communities in this area, across Virginia and as far away as Oxford, N.C.
The Whitcomb Housing Community Children's Library is expected to offer 700 books suitable for children in pre- kindergarten through 12th grade, with the majority for younger children, according to Hassan J. Fountain Sr., founder and leader of the literacy promotion organization.
Mr. Fountain said the library is open to all and he has no problem if children keep the books. He said he plans to add new inventory every month or two, just as he does at the other libraries.
"Our purpose is to promote literacy and provide the same opportunities, benefits and advantages to students in under- served communities that other youth in the city enjoy," Mr. Fountain said.
Along with the libraries, the Fountain of Youth Foundation holds free book distribution fairs at elementary schools. Mr. Fountain said the foundation has held 37 such fairs in the past three years and, in January, surpassed the 100,000 mark for donated books.
Speakers at the library opening are to include Raymond Neblett, former Virginia Union University basketball standout; Karter Couser, a former Whitcomb Court resident; and Damon E. Duncan, chief executive officer of the Richmond Redevelop- ment and Housing Authority.
Details: Mr. Fountain, (804 ) 687-6802 or fountain4youth2017@gmail.com.