Statue of archsegregationist remains in Capitol Square
Jeremy M. Lazarus and George Copeland Jr. | 2/21/2020, 6 a.m.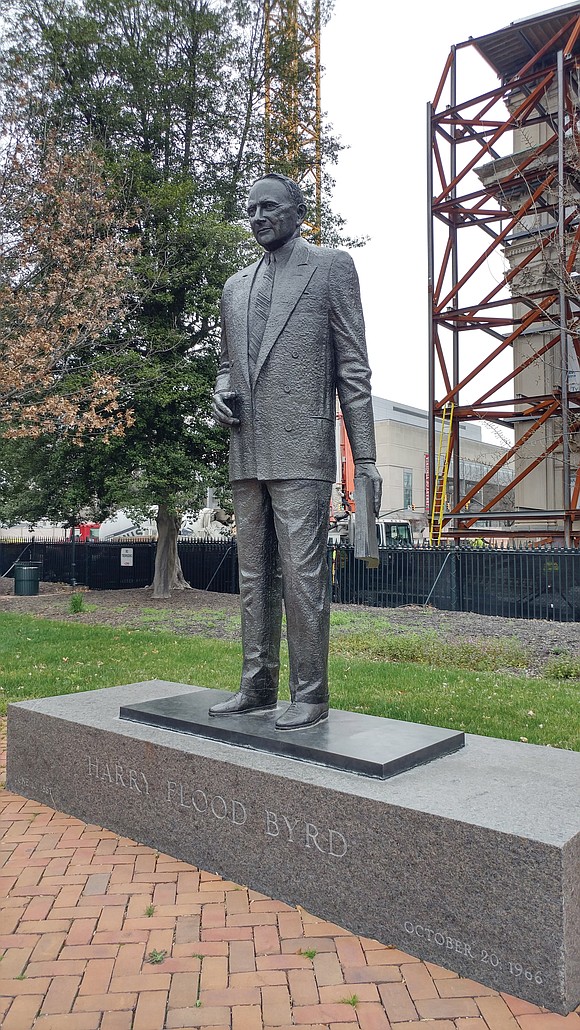 Richmond and other Virginia localities are on track to gain permission from the General Assembly to take down Confederate statues.
But just as there is no threat to a Confederate shrine inside the State Capitol, the Democratic-controlled legislature has abandoned any effort to remove a statue paying tribute to a top Virginia defender of racial segregation that stands on the Capitol grounds.
Democrats joined Republicans in killing a bill that called for removal of the statue to archsegregationist Harry F. Byrd Sr., a newspaper publisher, governor and U.S. senator who ruled the state for five decades and is best known for leading Massive Resistance to the U.S. Supreme Court decision outlawing the government-enforced mandate requiring separate public schools for black and white children.
Republican Delegate Wendell S. Walker of Lynchburg surprised colleagues in filing a bill to remove the statue of the once powerful Democratic leader who died in 1966.
Delegate Walker considered his bill a protest to the movement to allow local removal of Confederate statues and to Gov. Ralph S. Northam's announced support for removing a statue of Confederate Gen. Robert E. Lee from the U.S. Capitol's National Statuary Hall where it is one of two representing the state.
According to Delegate Walker, his bill was a reminder that Democrats have racist skeletons in their closet. Historically, Democrats led the state into the Civil War as defenders of slavery and led the effort to protect white supremacy before federal civil rights laws were put in place in the 1960s.
He said Democrats who want to remove Confederate statues ought to be just as concerned about more modern members of their political party who were racial bigots — and none more so than Mr. Byrd.
"Virginians are in the middle of a broad conversation about how we memorialize the past," Delegate Walker stated in a news release on his bill. "If we are to truly come to terms with that past, we cannot turn a blind eye to recent history."
However, Delegate Walker apparently panicked when Democrats began to rally around his legislation. He sought to withdraw the bill and then failed to show up at the House Rules Committee, led by Speaker Eileen Filler-Corn, to explain why.
The committee, dominated by Democrats, then voted to strike the bill. Not a single member, including five members of the Virginia Legislative Black Caucus, offered a substitute to keep the measure alive.
Maryland unveils statues of Douglass, Tubman in State Capitol
Annonoplis, MD - At a time when states are debating the removal of Confederate monuments, Maryland unveiled bronze statues of famed abolitionists Harriet Tubman and Frederick Douglass during a ceremony Feb. 10 in the Maryland State House. The life-sized statues were dedicated during a special joint session of the Maryland General Assembly in the Old House Chamber, the room where slavery was abolished in the state in 1864.
"A mark of true greatness is shining light on a system of oppression and having the courage to change it," House Speaker Adrienne Jones, Maryland's first black and first female House speaker, said in prepared remarks. "The statues are a reminder that our laws aren't always right or just. But there's always room for improvement."
While the commissioning of the statues was put in motion more than three years ago, their arrival coincides with new leadership in the state legislature. This is Speaker Jones' first session as speaker, and the first new Senate president in more than three decades was elected by senators last month.
The statues, dedicated during Black History Month, were made to show Ms. Tubman and Mr. Douglass as they would have appeared in age and dress in 1864.
Both Ms. Tubman and Mr. Douglass were born on Maryland's Eastern Shore. Ms. Tubman escaped from slavery to become a leading abolitionist who helped slaves escape through the Underground Railroad. Mr. Douglass also escaped slavery and went on to become an author, speaker, abolitionist and supporter of women's rights. His autobiography, published in 1845, was a best-seller that helped fuel the abolitionist movement.
Maryland also has removed painful reminders of its past in recent years.
In 2017, the state removed a statue of Roger B. Taney, the U.S. Supreme Court justice and Maryland native who wrote the 1857 Dred Scott decision that upheld slavery and denied citizenship to African-Americans.
State officials voted to remove the Taney statue days after a 32-year-old Heather Heyer, 32, was killed in Charlottesville, when a man rammed his car through the crowd of people who were there to condemn hundreds of white nationalists who were protesting the planned removal of a statue of Confederate Gen. Robert E. Lee.