60th Anniversary
Members of the Richmond 34 remember their historic lunch counter protest in Downtown
George Copeland Jr. | 2/28/2020, 6 a.m.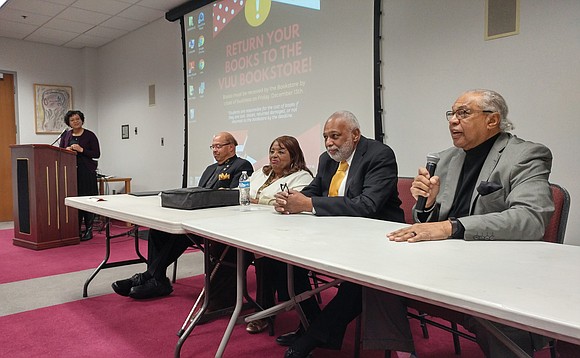 On Feb. 22, 1960, more than 200 Virginia Union University students protested the whites- only policy at the restaurant and lunch counter at Thalhimers department store in Downtown, challenging its segregationist dining policy in solidarity with similar student efforts taking place across the country.
Thirty-four of the VUU students were arrested by Richmond Police, their civil rights actions helping to push desegregation of Richmond restaurants and businesses.
Last week, several members of the Richmond 34, now in their 70s and 80s, connected with members of the Richmond community during a two-day, 60th anniversary commemoration of their historic protest during which they called for greater support from their alma mater and shared plans to ensure their mission continues.
"60 years and we're still here!" said Elizabeth Johnson Rice of Richmond, who joined fellow Richmond 34 members Raymond B. Randolph Jr. of Connecticut, Wendell T. Foster of Richmond and Dr. Leroy M. Bray Jr. of Mechanicsville in a panel discussion last Friday as part of the commemoration.
The four-hour event, held at VUU's L. Douglas Wilder Library and Learning Resource Center, largely focused on the group's legacy and the context surrounding their actions. During a break in the event, they were presented with certificates of recognition from Gov. Ralph S. Northam delivered by Traci J. DeShazor, deputy secretary of the commonwealth.
"The 34 students were recognized as heroes," said VUU History Professor Raymond Hylton, as he traced the students' impact through years of local and national history. "They sparked the campaign for human dignity."
The commemoration also marked the first year since the criminal records of the Richmond 34 were expunged. The group had appealed their convictions, which were upheld in 1961 by the Virginia Supreme Court. Their case went to the U.S. Supreme Court in 1963 with the legal expertise of attorneys Thurgood Marshall, Oliver W. Hill Sr. and Clarence W. Newsome. But the nation's highest court remanded the case back to Virginia for a new hearing.
On Oct. 28, 1965, all of the charges against the Richmond 34 were dismissed, but their criminal records were not formally expunged until last year.
The Rev. Clarencia Shade of Newark, N.J., Mr. Newsome's daughter, told the audience she was 6 when her father died and wasn't able to fully understand his work before his death. But she learned how his actions and the ac- tions of others continue to be remembered in the Richmond community. Those connections, she said, speak to the larger web of relation- ships that defined the Richmond 34, from their cooperative efforts during the protest to community efforts to pay their bail following their arrest.
"Everyone played a role. Everyone had a part," Rev. Shade said. "And today, we need to continue to follow that model to find our place so that we, too, can not only solidify but advance the cause of our own civil rights."
Members of the Richmond 34 eagerly shared their thoughts of how their sit-in affected their lives, their activism and how they want to see it remembered and carried forward.