Flying Squirrels honor legacy, history of Richmond 34
Fred Jeter | 2/25/2021, 6 p.m. | Updated on 2/26/2021, 5:05 p.m.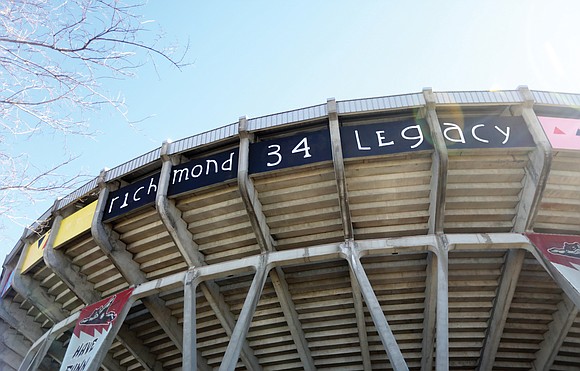 The Richmond 34 will not be forgotten, at least not as long as the Richmond Flying Squirrels have anything to say about it.
At The Diamond on Wednesday, the local professional baseball team announced multiple initiatives to celebrate a bold-letter event in Richmond's civil rights history.
On Feb. 22, 1960, a group of 34 Virginia Union University students were arrested for challenging the "whites only" lunch counter at Thalhimers Department Store in Downtown.
Their peaceful sit-in, coming just days after the noted Woolworth's lunch counter sit-in by four North Carolina A&T State University students in Greensboro, N.C., led to the total integration of Thalhimers and other white-owned Downtown businesses and influenced legislation in the Civil Rights Act of 1964.
"The Richmond 34 are heroes in the push for civil rights," said Todd "Parney" Parnell, chief executive officer of the Flying Squirrels. "We are more than thrilled to celebrate their legacy and tell their story to new generations, working hard together to positively affect our community twelve months a year."
Several former VUU students who were part of the historic sit-in 61 years ago attended Wednesday's announcement at The Diamond. They were Elizabeth Johnson Rice, Wendell Foster, Samuel Shaw and LeRoy Bray.
Also participating Wednesday were VUU President Hakim J. Lucas; Dr. Makola Abdullah, president of Virginia State University; Mayor Levar M. Stoney; and Ben Rothrock, general manager of the Flying Squirrels.
Here are some of the initiatives the Squirrels will be imple- menting with the upcoming 2021 season at the ballpark:
• The Squirrels will permanently retire No. 34 from on-field use in honor of the Richmond 34. It is the second number to be retired by the minor league team, along with Jackie Robinson's No. 42. Mr. Robinson broke the color barrier in Major League Baseball in 1947 playing for the Brooklyn Dodgers.
• A Richmond 34 Legacy Mural, created by area painter/ sculptor Andre Shank, will be positioned on The Diamond's upper facade directly behind home plate. It stretches 100 feet long and 20 feet tall and will be visible to fans entering The Diamond gates as well as to motorists passing by on Arthur Ashe Boulevard and southbound travelers on Interstate 95.
• A two-day "Richmond 34 Legacy Weekend" will be cel- ebrated, date to be determined. It will include a T-shirt giveaway, featuring an "End Racism" design, a collaborative work of artist Noah Scalin and Marc Cheatham of The Cheats Movement.
"The Flying Squirrels are making a strong, clear stand that they are a great community partner committed to positive change," Mr. Scalin said. "It is so important that we recognize Richmond's civil rights history as we build towards a better future."
During the Richmond 34 Legacy Weekend, the Flying Squirrels players will wear special Richmond 34 Legacy jerseys featuring the "End Racism" logo. The jerseys then will be auctioned, with proceeds going toward scholarships to support students attending VUU and VSU.
• Ms. Rice will serve as a community ambassador for the Flying Squirrels. Ms. Rice and the team will collaborate on educational and community outreach programs to tell the story.
"As ambassador, I am proud to represent these two organizations that stand for justice, peace, diversity and racial equality," she said. "Our mission is to learn from lessons of the past, embrace with passion the present and to be proactive with technology and creativity for the future."
• In partnership with VUU and VSU, the Flying Squirrels will offer students at both institutions opportunities to gain professional experience working with the sports organization in various capacities.
The program will be designed to create a more diverse and inclusive workforce with the goal of elevating more minorities into leadership positions. Details of the program will be announced later.