Actress and film festival co-founder Ja'Net DuBois succumbs at 74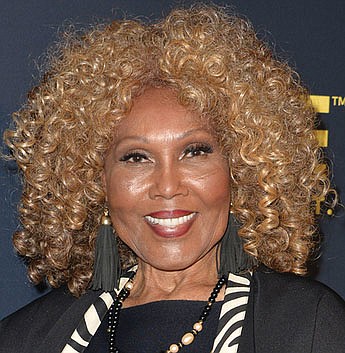 LOS ANGELES - Ja'Net DuBois, who played the vivacious neighbor Willona Woods on the 1970s sitcom "Good Times," composed and sang the theme song for tele- vision's "The Jeffersons" and was one of the founders of the largest black film festival in the United States, has died.
Ms. DuBois' song "Movin' on Up" provided the upbeat intro to "The Jeffersons" during the show's 11-season run from 1975 to 1985.
According to Ms. DuBois' youngest daughter, Kesha Fields, the actress died in her sleep on Monday, Feb. 17, 2020, at her home in Glendale, Calif. She was 74.
BernNadette Stanis, who played Thelma Evans Anderson on "Good Times" and remained close to Ms. DuBois, said she learned of her death on Feb. 18, from the actress' daughter.
"She used to keep us laughing all the time," Ms. Stanis said, warmly recalling her friend. "She was very, very talented. If she wasn't singing ... she was creating a character to make us laugh."
Ms. Stanis said Ms. DuBois appeared to be in good health when they appeared Feb. 1 at a fan meet-and-greet in Los Angeles with other "Good Times" co-stars Jimmie "J.J." Walker, Johnny Brown and Ralph Carter.
Ms. DuBois had a prolific career beyond the 1970s hit "Good Times," winning two Emmy Awards for her voice work on the WB series "The PJs."
Ms. DuBois' character on "Good Times," Willona, was the single, sexy neighbor and best friend to star Esther Rolle's Florida Evans. Though the comedy had plenty of one-liners, Ms. DuBois' appearances gave an extra dose of comedic relief.
Ms. DuBois showed off more of her dramatic skills when a young Janet Jackson joined the show as the abused child Penny. Ms. DuBois' character would go on to adopt Penny, and the storyline also forged a long, close relationship between Ms. DuBois and Ms. Jackson, who would go on to become a multiplatinum superstar. Ms. Jackson later cast Ms. DuBois as her mother in her 1986 "Control" video.
Ms. Jackson paid tribute to Ms. DuBois in an Instagram post last week.
"I am so very saddened to hear my longtime friend Ja'Net DuBois has passed away. I saw first hand how she broke stereotypes and changed the landscape for Black women in entertainment," Ms. Jackson wrote. "I'm grateful in recent years I had a chance to see her and create more lasting memories. I pray for comfort for all her family and friends."
Ms. DuBois also was lauded by actor Danny Glover and Ayuko Babu, who were co- founders with Ms. DuBois of the Pan African Film and Arts Festival 28 years ago in Los Angeles. Each year, the festival screens more than 150 films made by and/or about people of African descent from around the world and has been designated by the Academy of Motion Picture Arts and Sciences as an official qualifying film festival for live action and animation shorts for possible Academy Awards.
"Our sister, Ja'Net DuBois, epitomized a true, conscious Pan African artist who mastered the ability to be idealistic and practical at the same time," their statement read. "In our contemporary times, she was able to use modern technology to spread her voice, her image, her spirit, her songs and our stories around the globe and touch us with humor, dignity and her ancient wisdom. ... With her death occurring in the midst of the Pan African Film and Arts Festival, she left us an important message — support cultural institutions like her beloved Pan African Film and Arts Festival, and it will point you toward liberation and freedom. If not — like the bluesman, Taj Maahal sings — you'll stumble and fall."
Ms. DuBois' career started in theater, where she appeared in Broadway productions of "Golden Boy" and "A Raisin in the Sun," according to a biography on her website. Her performance in "The Hot l Baltimore" in Los Angeles caught the eye of Norman Lear, who developed "Good Times" and "The Jeffersons."
Ms. DuBois' Willona was a "true diva back then — fancy dressing, the wigs, doing the thing. ... the real woman woman," Ms. Stanis said. "She brought it, didn't she?"
Her film credits included 1970s "Diary of a Mad Housewife," "I'm Gonna Git You Sucka" and "Charlie's Angels: Full Throttle."
She was credited in numerous other films as varied as "Basic Instinct," "Next Friday" and "Tropic Thunder," which included the song "Movin' on Up."
In addition to Ms. Fields, Ms. DuBois is survived by a son, Provat Gupta, and another daughter, Rani Gupta.