Va. General Assembly starts on historic note
George Copeland Jr. and Jeremy M. Lazarus | 1/10/2020, 6 a.m.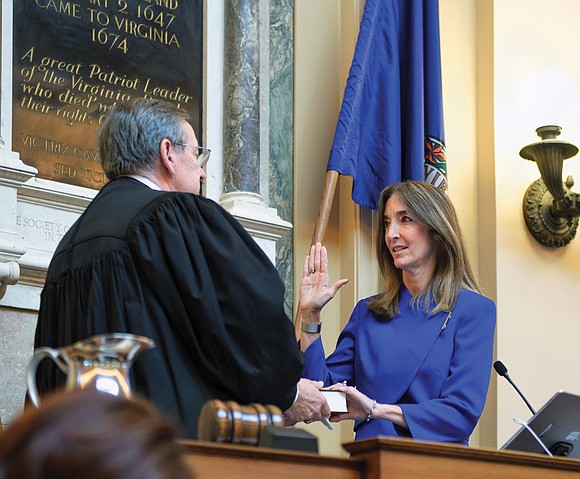 The General Assembly was gaveled into a potentially history-making session Wednesday with Democrats in control of both houses and eager to usher in changes that will make it easier for Virginians to vote, reduce the barriers they face in renting and increase the minimum pay they receive for working.
Northern Virginia Democrat Eileen Filler-Corn was sworn in as the first woman speaker of the House of Delegates in the legislature's 401-year history.
With a record number of African-American and female legislators filling seats in both the House of Delegates and state Senate, a wave of policy changes is anticipated that also would impact education, gun purchases and the environment, with swift action predicted on a number of high-profile issues that Republicans have blocked for years.
Among other things, Democrats are promising to pass the Equal Rights Amendment to give women equal constitutional standing, raise the minimum wage to as much as $15 an hour, decriminalize marijuana possession and repeal laws restricting women's rights to abortion.
Also on the Democratic agenda are plans to ban discrimination on the job and in housing on the basis of sexual orientation and reinstate the one-handgun-a-month restriction on purchase and require background checks on all gun sales to end the "gun show" loophole.
"This is a new year in the Commonwealth of Virginia, and a lot of these things that we've been talking about for years are now going to become a reality," Gov. Ralph S. Northam said Friday in announcing a wave of criminal justice reforms, including proposals to permanently ban the state from taking a driver's license for unpaid court fines and fees for unrelated matters and to reinstate parole for older inmates and those who are terminally ill or severely disabled.
Few groups will do more to usher in change than the 23-member Virginia Legislative Black Caucus. With the most members ever, the group now represents 30 percent of the 76 Democrats elected to the General Assembly's two chambers. Caucus members also will hold an unprecedented number of leadership posts in the legislature noted Henrico Delegate and VLBC Chair Lamont Bagby at a Capitol news conference Wednesday.
VLBC members will lead the Democratic caucuses in both the House and the Senate and also will chair nine of the 26 committees, including seven of the 14 House committees and two of the 12 Senate committees.
"We're excited," Delegate Bagby said, about entering the session with real clout to fulfill the mission of the caucus to improve the lives and condition of the state's African-American residents.
One indication of the influence came Monday when Gov. Northam announced he is backing proposals by Norfolk Delegate Joseph C. "Joe" Lindsey to make Election Day a holiday and rid Virginia of the Lee-Jackson Day tribute to the Confederacy, and to allow early voting at least 60 days in advance of elections by ending the need for Virginians to cite an excuse to vote absentee.
Delegate Lindsey, the new chair of the House Privileges and ElectionsCommittee, said at the Wednesday news conference his committee will focus on ways to "make it easier to exercise the right to vote."